OPC Global republish their article on the World-famous racehorse Shergar who was kidnapped, Friday, 8 February 1983, and to this day, the mystery has never been solved as to who, or what organization actually did do it.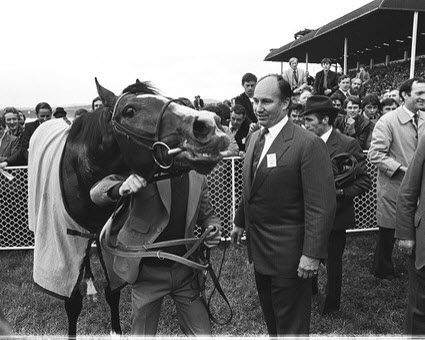 There are various versions of events that surround this kidnapping even a suggestion, in whispering circles, that the syndicate themselves orchestrated the kidnapping, because the horse was turning out to be less of a stud than anticipated. However, given that most of the insurance policies were void without proof of the animal's death, that one didn't get up to a gallop.
The most plausible and enduring explanation points the finger at the IRA. There is no doubt that the organisation was in need of cash and that it was one of the few groupings with the expertise, firepower, and audacity, to carry out a kidnapping. It seems more than coincidence that its members were involved in kidnapping Quinnsworth boss Don Tidey and the attempted kidnapping of businessman Galen Weston later that year.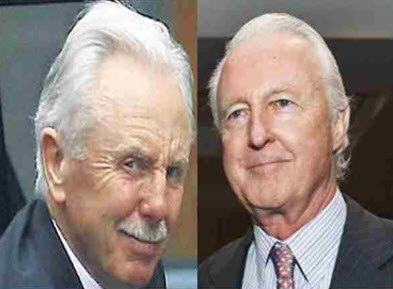 Don Tidley and Galen Weston kidnapped by the IRA later that year.
---
The IRA also knew the back roads, and border counties, like the back of their hands and, if, as many believe, Shergar is buried in Co Leitrim, there would have been no better scouts to find a safe plot.
At the time, however, there was some doubt, given the uncharacteristically sloppy research done by the kidnappers who don't seem to have known Shergar was not owned outright by the Aga Khan but by 35 disparate shareholders.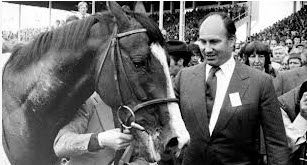 Some days after Shergar was taken, however, although it was not revealed by Gardaí for many years, a loaded magazine from an automatic rifle of the type used by IRA units, operating in South Armagh, was found by a boundary wall near the main gate of Ballymany Stud. Former IRA activist and killer turned police informer, Sean O'Callaghan from Tralee, backed the theory in his book 'The Informer,' and again, in an interview for a Mint Productions documentary on the Shergar mystery for RT in 2004.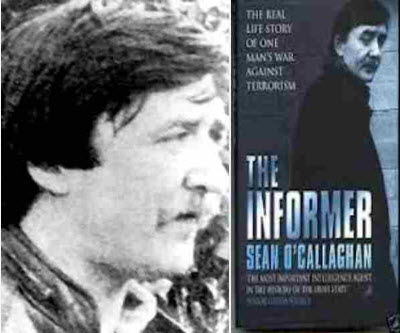 He claimed to know the kidnap gang, naming among them convicted killer and former senior IRA man Kevin Mallon, and former Sinn Féin Councillor for Dublin, Nicky Kehoe. Mallon has been less than communicative on the issue and Kehoe doesn't take the allegation seriously.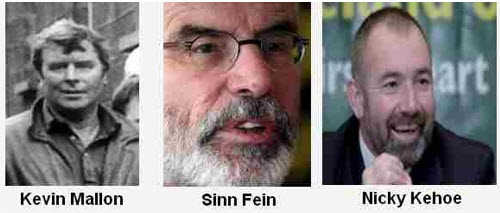 ---
In recent years Sinn Féin has used its contacts in efforts to recover the remains of 'The Disappeared,' people buried in secret after their abduction and murder by the IRA, but a spokesman said no such approach had ever been made about helping to find Shergar.
Asked if the party would be open to such an approach, he said: "We don't expect anybody would ever make that request."
A Garda spokeswoman said the file on the case, still located at Naas Garda Station, where Chief Supt Murphy created it, remains open but, "No-one has any appetite for discussing it."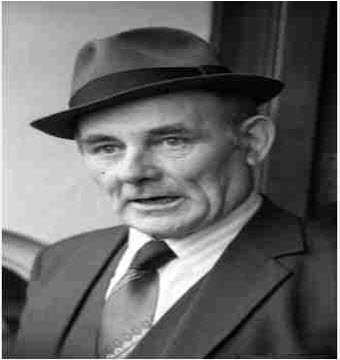 Chief Superintendent James Murphy at a press conference outside Newbridge Garda Station.
---
The more bizarre theories include: Colonel Gaddafi, of Libya, had the IRA steal Shergar in exchange for weapons because he opposed the Aga Khan's role as Muslim spiritual leader.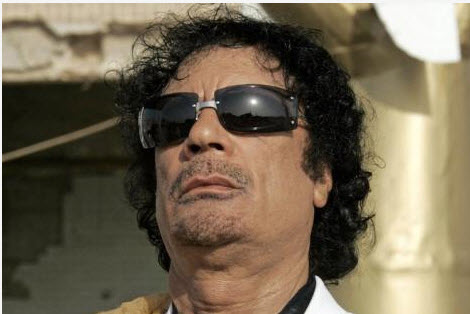 The New Orleans Mafia took Shergar because they believed they were owed a horse, after an investor failed to honour a loan made available to him to buy another Aga Khan horse, in a deal which fell through.
A rival horse dealer stole Shergar in revenge because he blamed the Aga Khan for raising doubts as to his ownership of some other bloodstock after the death of the original owner.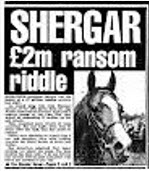 The Haughey link is just one of the outlandish claims made by a veteran criminal in Britain, who says the late Taoiseach shared the company of a man who proposed the kidnapping to alleviate a cashflow problem.
The man, who apparently made the claims from prison to his then lawyer Giovanni Di Stefano, says Shergar was painted black as a disguise and later shot by the late INLA man, Dominic 'Mad Dog' McGlinchey.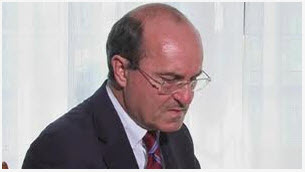 On 11 November 2007, the man wrote to Giovanni di Stefano as below, and, through investigations, we can reveal the true version of events of what happened to Shergar.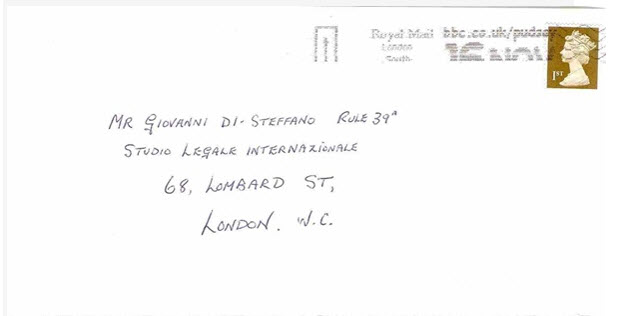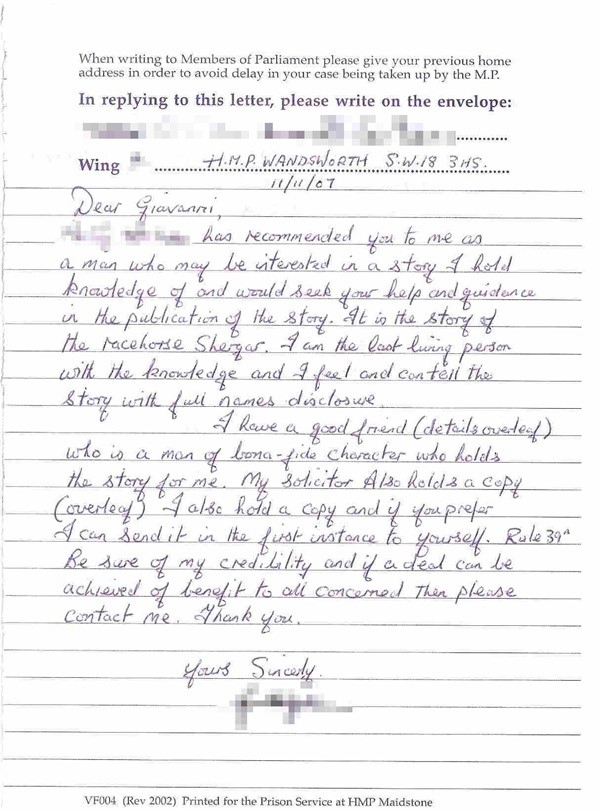 And this is how the story unfolds from the inmate from Wandsworth Prison
SHERGAR – A TRUE STORY
'Shergar was owned by the Aga Khan and syndicated to 34 shareholders (these are all documented). Captain Stan Cosgrove was the vet at Ballymany Stud, County Kildare, and he part-owned one of the shares with the then Prime Minister, 'Tricky' Charles Haughey (later exposed in a £3m fraud). Cosgrove's son, David, was a member of Lloyds who insured and subsequently paid out on Shergar.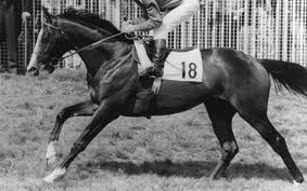 The IRA were immediately blamed for the kidnap but were, in fact, completely innocent. Shergar's stud value was enormous and in his first year produced 35 foals. However, early indications showed that the potential quality of the foals did not appear to be as high as expected. This turned out to be quite accurate although one, Authaal, did go on to win the Irish St Leger, and, also, had a fair amount of success in Australia.
The puzzle of Shergar is one that leads to no conclusion, and it really is a classic 'whodunnit.' All I shall try to do is to write all that I know committed from memory.
Many luminaries of the day (Sangster, Jagger et al) had extra insurance premiums taken out on Shergar. All except, that is, Cosgrove, and Haughey, who received no extra payout despite, as stated, Cosgrove's son arranged the insurance. Were they stupid or were they shrewd?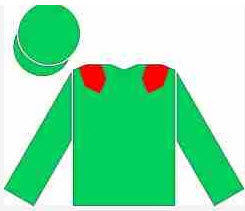 Racing Silks of Shergar.
---
In August 1982, I visited a man with whom I had done business for many years. His name was John Addey and he was a P.R. Lobbyist. He was a homosexual who lived in comfortable style in Canonbury House, Alwyne Villas, North London. As a point of interest, in WW2 General (later President) Eisenhower used it as a private residence where he carried on his documented affair with his female driver Kay (surname eludes me).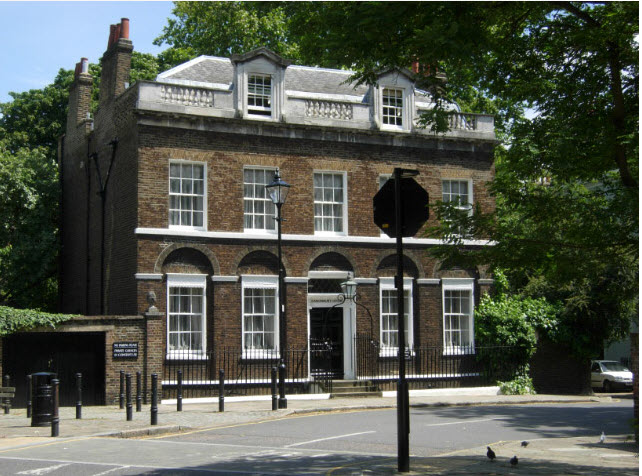 On this day I did indeed meet Charles Haughey. Addey represented many people – Rocco Forte was among the style of man whom he covered, and smoothed paths for. Theo Paphitis (Ryman's stationers/Millwall FC/Dragon's Den etc) who later took over my friend's offices in Wimbledon was another. Throw in the odd high Clergy and you have the picture. Anyway Addey, as always, a good host, asked me to walk with him in the garden as he had a request to ask. The request was one of a friend of his who needed money and wanted a horse kidnapped, then hidden for the insurance money. No name was given at this stage, just the question of possibility. To take a horse I explained would be simple. Addey was pleased and asked me to await a call later that week. This he duly did, and we met again. At this meeting he stated the location and that the horse was Shergar. I told him that all hell would break loose, it did, and that to draw insurance would be nigh on impossible. John Addey asked me to consider the request, as it was a close personal friend who was involved, and I replied that I would. After some considerable thought, I realised that it was not for me, but I did have the contacts that could make it happen. Besides, the absolute 'devil' of it appealed to my natural mischief!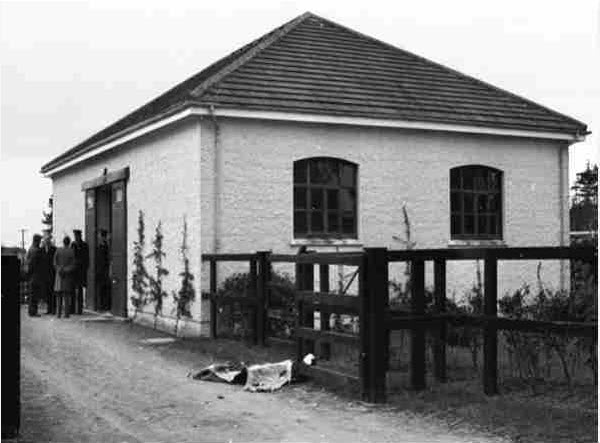 Grounds where Shergar was taken from.
---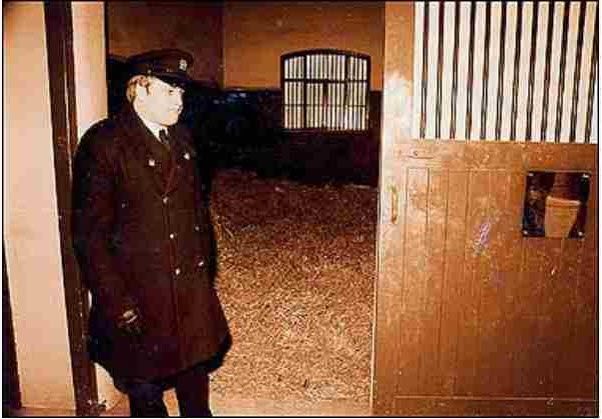 Garda shutting stable door of Shergar.
---
I knew a horse dealer from Bodyke, County Ennis, called Denis Minogue. Now this man was no ordinary dealer, he was quite simply uncanny with horses, and with full respect to all the great trainers over the years, O'Brien, Stoute, Lord Caernarvon, Denis Minogue left them for dead with his knowledge. He grew up with his father and six bachelor uncles, all dealing and training horses. They served and supplied all horses to the police and the British Army, that's how good they were. As a point of interest, Minogue's grandfather opened the very first supermarket in Brooklyn, New York, at the turn of the 20th century. Anyway, it was agreed that Minogue would arrange the horse box and the necessary 'muscle' for the job, but as he was well known to Cosgrove and co, it was decided that a professional man would be brought in, as Shergar was quite highly strung and could be particularly hard to handle. To this end, I knew an ex-jockey by the name of 'Darkie' Seward (Lennie was his real first name). He had been convicted in 1961 of doping horses and four classic races, The Derby included, to known knowledge fell prey to his potions. The betting syndicate behind it all obviously benefited and Lord Lucan and Charlie Wilson (train robber) were part of the coup to my knowledge. Lennie received six years in prison, had his licence suspended and was 'warned off' for life.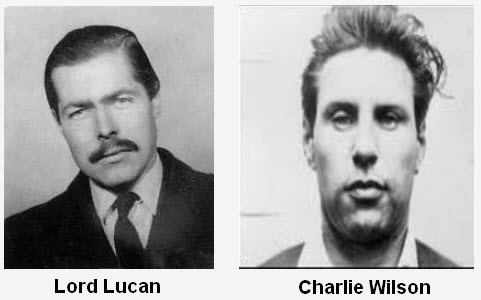 ---
With the chosen men in place, I met with John Addey and drew £50,000 initial payment for expenses. Minogue had recruited two very dangerous men by the names of 'Mad Dog' Dominic McGlinchey, and Jack Duggan, to suppress any possible resistance at Ballymany Stud. Six weeks prior to Shergar being taken they had held up two Gardai and robbed them of their uniforms, ID, and weapons. This was in Cork and was well documented. They then went on a robbery spree throughout the southwest of Ireland. (*Remember this for later).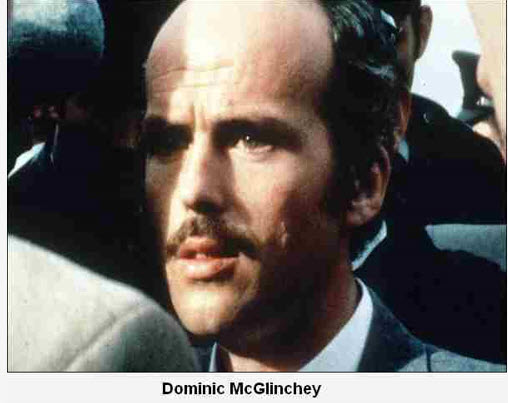 ---
Come the evening of the 8th February the horse box was driven to and parked at the end of the driveway to, the Stud. A groom, James Fitzgerald, and his family lived on the Stud and when there was a knock at the door his son answered to be confronted by armed men. Whilst his wife and family were restrained, Fitzgerald was ordered to take the men to Shergar. At this point, the horse box was summoned and Lennie Seward led Shergar to it. The horse was taken to Minogue's farm at Bodyke where he was dyed black and put in a field with several other thoroughbreds. During the investigations that followed, all stables in the area were visited, including Minogue's, but as with the rest of the investigation, it was a complete shambles and Shergar was not spotted. The Ballymany Stud was phoned and a ransom demand relayed to Cosgrove with instructions of the procedure.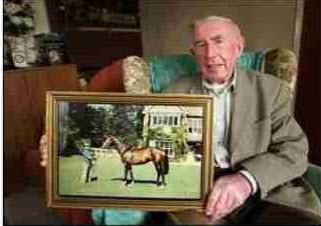 Jim Fitzgerald, Shergars former groom with a photo of the prize stallion.
---
Cosgrove used a man called Captain Berry to handle the negotiations and he duly met with Duggan at a nominated venue, a lounge bar in a hotel. During the meeting, Duggan warned Berry that he was being watched (McGlinchey was across the other side of the bar with a gun in a rolled-up newspaper). Berry took fright and upon returning to Cosgrove, backed out of his position and withdrew. Meanwhile, Robert Sangster, who headed the syndicate, declared that no ransom would be paid no matter the circumstances. The job was dead, and Seward returned home telling the others to just leave Shergar somewhere to be found. Minogue, however, knew Cosgrove well and arranged a meeting with him where he persuaded him to allow him (Minogue) to have covert negotiations with the kidnappers. He persuaded Cosgrove to stump up a pre-payment so as to win the trust of the kidnappers. Cosgrove managed to raise £80,000 but insisted that a Garda (Sergeant Keirnions) accompany Minogue. En route to a supposed meeting with the kidnappers the pair stopped at a bar for a drink (this was their stated story) and upon returning to the car found that the boot had been forced and the £80,000 had disappeared (I know!). Keirnions was subsequently suspended and sacked – he went on to open a small hotel on the west coast of Ireland.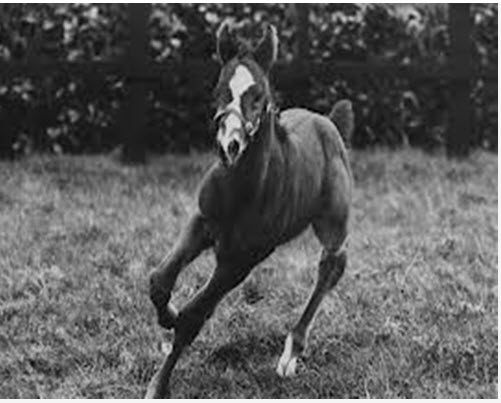 Sixteen years later I walked into a public house in Effingham, Surrey, and there stood at the bar was Denis Minogue. He was in the area training polo ponies at a local stud and this is the story that he told me:
After the kidnap of Shergar and the subsequent ransom demand, Robert Sangster had refused to have any contact with those responsible and insisted that there would be no negotiations whatsoever. As a result, the Aga Khan immediately withdrew all of his horses from Ireland. McGlinchey, in frustrated anger, took a shotgun to Shergar and killed him, butchered him and fed him to pigs. He, and Duggan, then fled Minogue's farm which was duly raided. The police discovered the Garda uniforms (*) and arrested Minogue who was subsequently held in Mountjoy Jail for four months. Once on bail, he fled to Sierra Leone on a diamond scheme.

---
A few months after Shergar's demise McGlinchey was wounded in a police shootout and was arrested. He was sentenced to life imprisonment having been convicted of murder but this was overturned 18 months later, due to lack of evidence. He was then given ten years for firearm offences. Less than a year after his release in 1993 he was shot dead – nobody was ever charged with his murder.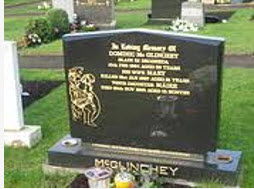 ---
Duggan escaped capture and a false funeral was later held for him in Bodyke. With assumed papers, he moved to America under the name of Wilson.
To sum up, the whole affair was a fiasco on all sides, and of the 34 syndicate holders, not one was investigated for any financial irregularities.
So Whodunnit? You tell me. But what I have told you would be sworn by Lennie Seward and myself.'
Questions linger on without answer:
How reliable are the accusations of Sean O'Callaghan, a self-confessed murderer, and a terrorist? Since he says he was part of the kidnapping, how reliable are his sources?
British intelligence has been infiltrating the IRA for years, so why have no additional details of Shergar's abduction ever come to light? Is it because the IRA was not involved at all?
Where is Shergar's final resting place and how could a racehorse be transported and buried without eyewitnesses?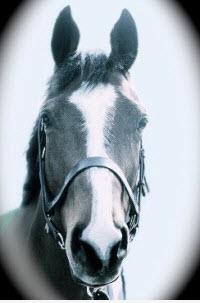 FIRST PUBLISHED BY OPC GLOBAL 9 FEBRUARY 2013

NB: Some images retrieved from Google, will remove at owner's request.