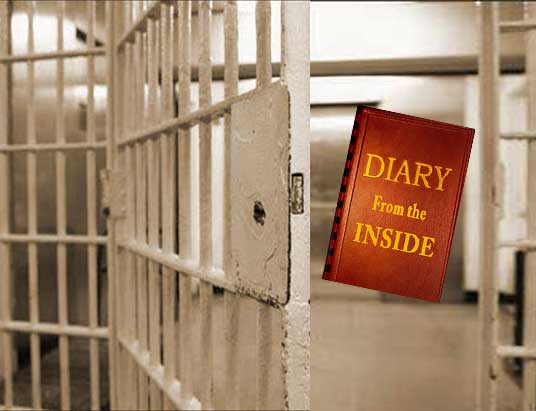 Thursday 25 May 2017
11.04pm – When I saw the news article below the other day I thought to myself: I wonder when the State will ever play second fiddle to the interests of justice???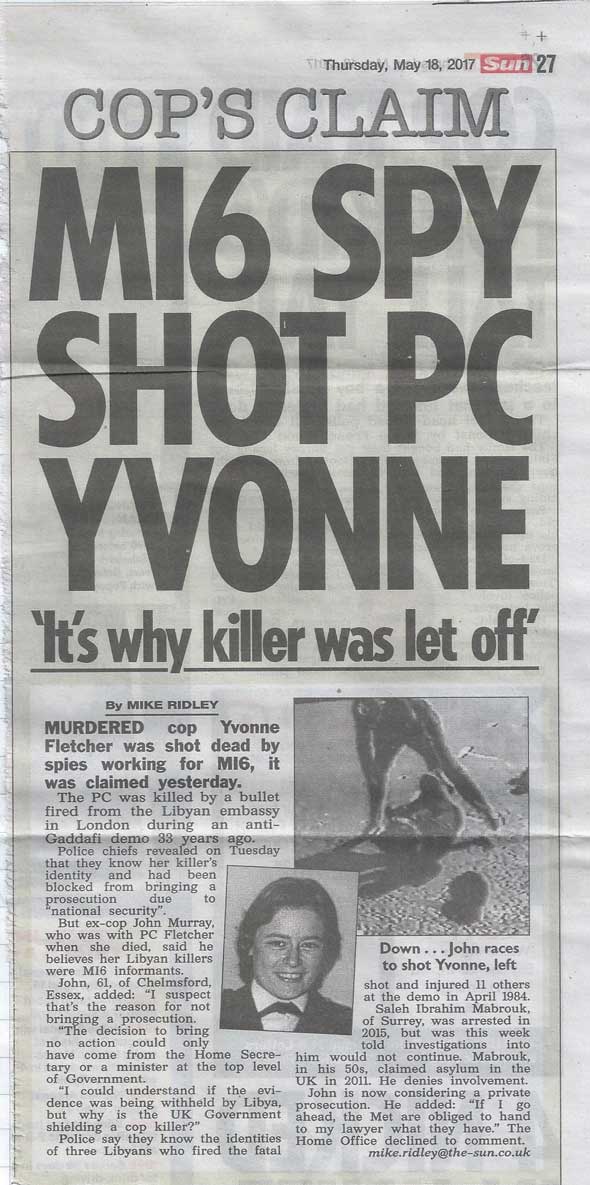 I guess never but oh well!!! Today I took some sun and feel good. My infection has gone – for now at least – and look good, I must just hold my nerve and allow justice to take its course.
Friday 26 May 2017
09.48pm – I happened to catch sight of this funny news article about Judge Morris QC getting stuck in a lift at the Old Bailey. It has never happened to me but let me say this: – it could not have happened to a more deserving judge. I say no more.
Saturday 27 May 2017
10.12pm – Tonight I watched the F.A. Cup final with some of the boys and after Arsenal beat Chelsea we had some sandwiches, coca cola, cherry aid, muffins and all in all a very pleasant time. Now I am not (surprisingly) a big football person but tonight was not so much about sport but community. You see, despite the fact that last night someone committed suicide there does exist community feeling and spirit, and I am very much a part of all of that. I have many letters to write but no stamps so have to wait a while. Never mind its Bank Holiday anyway so no post to collect or deliver. Cest la vie…….
Sunday 28 May 2017
05.51pm – Of all the most stupid and vindictive charges (including mine) is the criminal case now put against Jonathan King. It is so stupid and so obviously perverse that it beats the perversity he is alleged to have committed.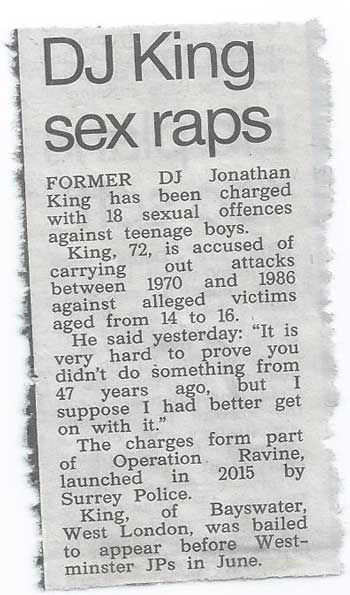 How the eff can anyone be expected to remember what happened 47 years ago is quite beyond me. It is a mockery of the law and even a mockery of the people who have taken 45 years to make the complaint. I advised JK many years ago that as soon as his licence period was over to get the eff out of this country, full of intellectually dishonest politicians, prosecutors and police leaving aside the most expert of being legally and intellectually dishonest of all:- the Court of Appeal which is no longer fit for purpose. So many cases are just politically decided. To cite one example the case of Sgt Blackman, leaving aside it should never been brought once it was he was guilty, and only the media and £810,000 fees changed the verdict. Utter disgrace as is the case against Jonathan King.
Monday 29 May 2017
05.59pm – Well I found an article for my dear friend Gerry Bayford – look Charlotte Rampling is looking for a new man – how about it dear friend?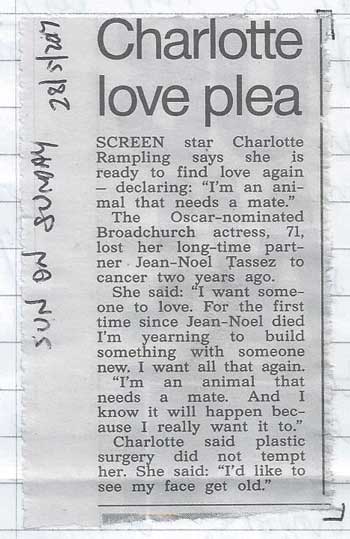 Maybe not – too much aggro involved in the courting process.
06.01pm – Would you believe that the General Election is only a few days away? June 8th and all will be decided. Don't think that it's taken for granted that the Tory Party will win. Yes they will but I'm not sure that it will be the majority they think. It is all up for grabs. What I do know is that UKIP is finished!!! That Party was founded by Jimmy Goldsmith solely to attain a Referendum on whether the UK should stay in the EU. Once achieved it would be disbanded. That Referendum took place and the UK is out. So the point of UKIP is zero.  They should respect the wishes of the Founder and disband. So, without the distraction of the UKIP votes it really will be a CON v LAB decision. Personally, I don't give a flying eff. The UK are out of the EU and good riddance.
Tuesday 30 May 2017
08.34pm – There is a great scene in Great Expectations when Abel Magwitch finally reveals himself to Pip as his benefactor and Herbert Pocket enters the room. Abel Magwitch makes Herbert Pocket say "strike me down on the spot if I split in any way whatsoever" Herbert Pocket has to swear on the Bible that Abel Magwitch carries around with him. Now, today, that means zilch. Why? Because a promise or an oath means nothing. A person's word is eff all. Why? Well if our political leaders make false promises and Judges are intellectually dishonest it follows that the people will follow. Well, How effing sad!!!!
08.38pm – I was expecting my son Michael to send me the letter that Theresa May sent to the EU to invoke Art. 50 but it has not arrived. I only need first page and last page. I hope Caroline can send it to me. Sometimes the post is faster from Spain than London.
08.40pm – Funny to think that in just a few days time the General Election will take place. What a difference does it make to me? Eff all, because I'm out of this country and never will I return. But for the British people – I do feel for them. I have zero time for the political leaders but the people I wish them well.
Wednesday 31 May 2017
10.00pm – My infection has returned and I can't get to see the doctor until 15 June 2017. Oh well that is the price to pay when one is in the open section of here. You have to be 'like' normal and normally it takes two weeks to get a doctor's appointment. Well, you know what I say? Get some effing money into the NHS. Let's start with the 350 million pounds per week that the Tory Party promised. Sorry but being a politician is a license to steal money, tell lies and cheat the morals of the country.
Thursday 1 June 2017
08.21pm – It's the first of June and some nice sunshine. Do you know what comes to mind? From the song 'I just called to say I love you' the line 'no wedding Saturday in the month of June.' Well, I blew that out of the water because I did get 'hitched' in June.
10.33pm – The last few days I have not been feeling quite so OK. You know sometimes I just can't be bothered to do anything. Letters unanswered, applications not made now dangerously out of time, and missed two healthcare appointments including taking blood for new tests. I just can't be bothered. I will overcome it and soon but for now – to hell with it.
Friday 2 June 2017
O9.37pm – Today has been partly sunny partly rain. That has caused somewhat of a cull in enthusiasm and my infection simply won't go away and can't see doctor until 15 June. Oh well it is what it is.
Saturday 3 June 2017
08.22am – Just happened to turn on the TV and saw 'Goodbye Mr. Chips' from the wonderful novel by James Hilton. The film is dedicated to Irving Thalberg. Not many will know his name because he died before the Second World War but when I was a boy he was the one who inspired me. Again not many will know that but one day when I'm long gone from this world (thank eff) someone will read my real autobiography about my early days. Look up Thalberg and those that know me may understand. He was head of a great film company before he was legally (age 21) to write a cheque!!! I became head of the same company years later but when I was eight years of age and ill in bed, I read a book about him and David Selznick. I joined the elite years later.
08.28am – Yesterday my friend – the American – came back to Highpoint. I'm glad in a way he is back but sad that justice in this country does not work because by rights when he went to Court for Hobos Corpus he should have been granted it. However, the Courts are more and more intellectually dishonest. Sad……………..
Sunday 4 June 2017
05.02pm – There is nothing worse for me than what I plainly call an effing liar and Bill Bardenwerper or whatever his name is fits the title. See the news report about the late President Saddam Hussein.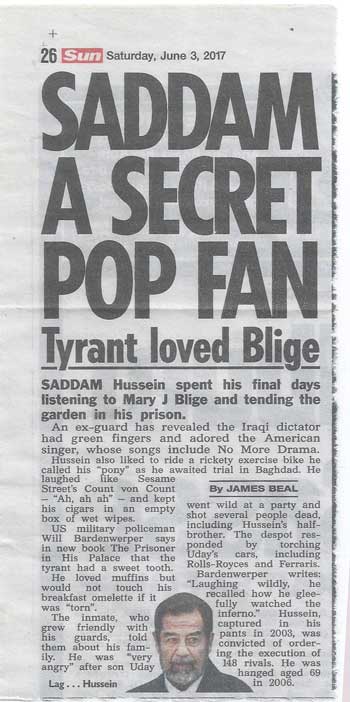 I never had the inkling that Saddam liked anything other than football, the Holy Koran and some gardening. He was at all times including when he was President a very polite and correct person.  Yes, as Tariq Aziz told me "Saddam was a hard leader but in a time when a hard leader was required." But this bullshit story is fake news only written to sell a stupid book with an even more stupid title. I will always hold President Saddam in the highest esteem and sad as hell he was murdered with the consent of the US/UK.
Monday 5 June 2017
07.19pm – I did not comment on the cowardly and animalistic attacks on innocent people in London by three militant Islamist extremists. Let me make it quite clear that the Koran absolutely prohibits murder and what these criminals do is not in the name of any religion but in the name of pure evil and criminality. The biggest mistake that all the media and political figures are making is by calling them 'terrorist.' They are not! They are simply criminals who should if caught alive, be tried for murder. In fact, I would repeal any terroristic legislation. It's not needed. The criminal law – is more than sufficient in dealing with these people, by labeling them 'terrorists' gives them a political platform. That must never happen. Yes, open a dialogue with I.S. with a view solely to cease the killing but no more. This whole matter is the root cause of the meddling in other people affairs by Blair and Bush. They are the actual cause of the advent if I.S. and other organisations that prefers the bullet to the ballot box. I pray for the entire EU and the US and that includes the UK. I also hope that enough is really now enough and no more killings because it not in the name of Islam but just crime.
Tuesday 6 June 2017
08.49pm – Today, weather wise, has been what I call a shite day. I mean its June and it's been raining without effing stop and even hailstones. This country is well and truly screwed up in a lot of ways. You can never plan anything. My father, God rest his soul (I do miss him so much) always said this country could never be the base for any plans long or short. He was so right.
08.53pm – Today I met Rabbi X and what a truly nice person. He told me something I did not know. Israel has no death penalty. Yet the only person that has been executed (I was the only one who knew) was Eichmann in 1962. What Rabbi X told me was that he was not executed in Israel but on a ship outside territorial waters.  Can someone please check that because it's not such a well known fact. Leaving that aside, I have to say what a really nice man is the Rabbi.
08.57pm – Its only two days away from the General Election, so many predications but at the end of the day who really knows how over 40 million people will vote, if that many actually bother to vote at all.  So many issues but at the end of the day the British people have been well and truly screwed by every Prime Minister since 1900!!!!!
Wednesday 7 June 2017

08.47pm – I'm glad that Peter Hitchens of the Daily Mail has raised the issue of loud music being played even though the target was my client Manuel Noriega. You see it's a big problem in prison. People play their music so loud it disturbs twenty/forty other people. However, I don't blame those that play the music but the prison service that allows music centers with big loud speakers, that is the cause of most issues in prisons. People think it's about potential radicalism – yes – but people are radicalised into not giving and eff about others. They play their music and pollute other people's space not with drugs and extremist Islamic thoughts but extremist loud music. The prison service gives people massive sound systems and expects them not to abuse it. Not going to work. I hope someone reviews the policy.
08.53pm – Well, one more poxy day and by the time Caroline gets this diary entry a new Prime Minister will be ensconced into No 10 Downing Street. What is my prediction? Could not give a damn!!!!
Thursday 8 June 2017
08.17pm – Today, I received a very unexpected visit from James Lewis from Kaim Todner Solicitors, some nice news that at this stage cannot (yet) be placed on paper. Let's see how things ride out. Now today is also Election Day. As you all know the exit polls are not allowed to be published or broadcasted until 10pm when polling stations close. So at the end of the day I have no idea in hell who will win or lose but I know that at the end of the day it matters not a hoot to me. Good luck to whoever wins.
Friday 9 June 2017
08.06pm – Well, well, well, what a total complete eff up by the Conservative Party. The election went badly but more than ever those affected most will be the people like me, until such time as a Minister is appointed we won't be going anywhere let alone repatriated/deported. The Conservatives lost their majority over believing their own media – let me say I too was guilty of that and I too have paid the price. At the end of the day Theresa May should at some stage resign and in the autumn call another election – incidentally costing £130 million the price of building several schools and a couple of new hospitals. For a vicar's daughter she has no contrition!!!!
Saturday 10 June 2017
09.49pm – A very nice sunny day and yes I have a lovely suntan and am feeling better. Many of us are still waiting for the Prime Minister to appoint the Minister of Justice. Lets hope it happens by Monday.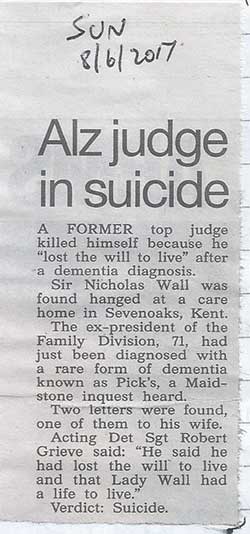 10.00pm – I came across the news report about Nicholas Wall, Lord Justice who was a great man and Judge. I really was not aware he was ill and my condolences belated to his family. He heard one of my cases and was one of the first of High Court Judges to use email communication. What a loss. Again a truly brilliant man. Rest in peace.
Sunday 11 June 2017
07.15am – I see that yet another billion pound fraud has been discovered and people arrested.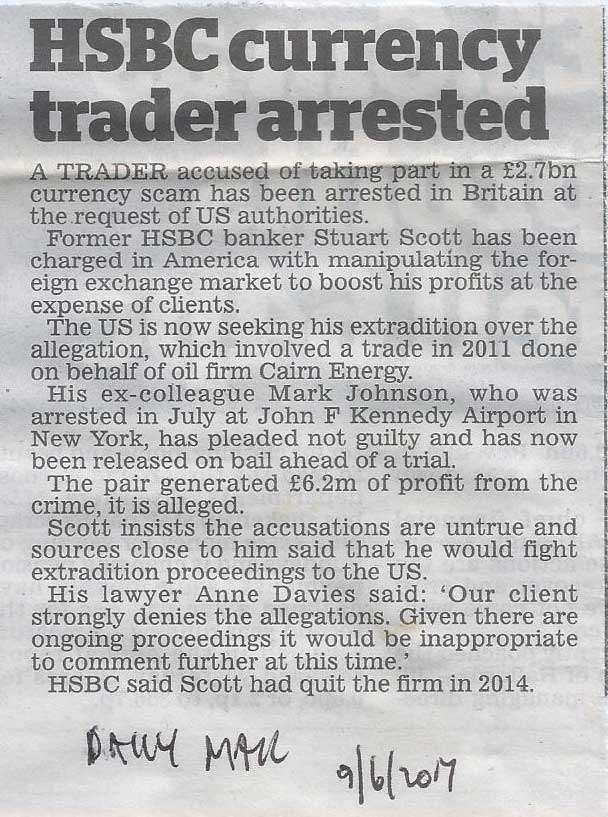 If found guilty the person will get eight to ten years, and yes the amount is £2.7 billion fraud. As for confiscation nothing will happen because the person will not have anything. You see in this country the law is politically directed!!!!!
Monday 12 June 2017
10.01pm – There are some days when you just don't want to say eff all or talk to anyone for no reason at all. This is one of those days. Over and out for the day.
Tuesday 13 June 2017
06.42pm – I am sorry about yesterday. I just had one of those days when you ask yourself: "What the eff am I doing here?" Yesterday, not being today and the sun shining all OK on the Western Front now. Now look at the news article below.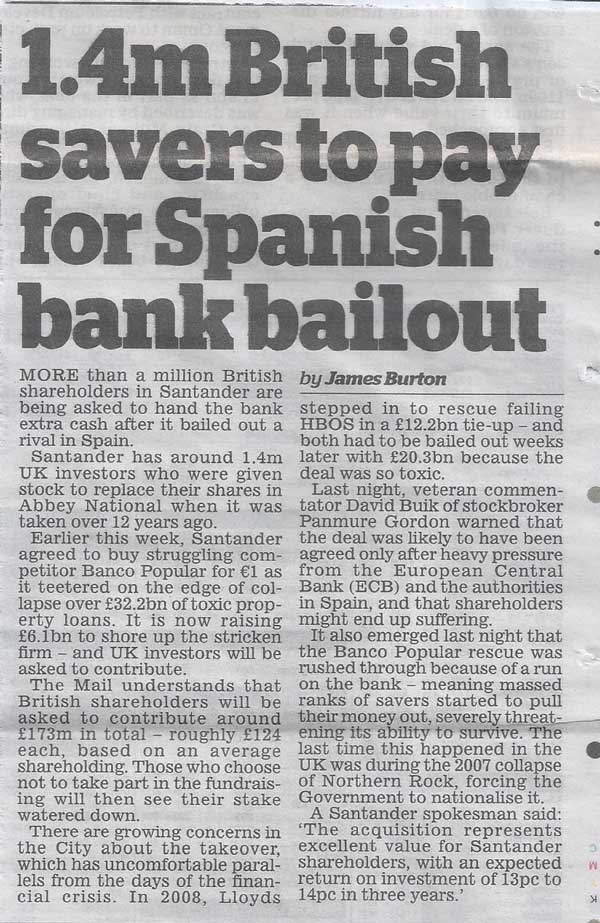 I would like to ask one question:- "How the eff does a bank get into such massive debt? £20 billion plus? Surely someone must be responsible and liable and surely with such debt it's fraudulent trading?" OK more than one question but can someone answer at least one?????
I would like to ask one question: – "How the eff does a bank get into such massive debt? £20 billion plus? Surely someone must be responsible and liable and surely with such debt it's fraudulent trading?" OK more than one question but can someone answer at least one?????
Wednesday 14 June 2017
11.00pm – Today started out OK but has ended up not so good. People in this place use their role and colour to the full advantage. I won't be party to that ideology so now and then there are misunderstandings. Worse my blood pressure is fluctuating and I am getting dizzy spells. I must carry around with me some sugar or some chocolate in the future.
Thursday 15 June 2017
09.56pm – Today I spent the day with three people: – me, myself and I!!! Yes there are forty people in the open unit but as in the past four and a half years I have spent each and every day alone. Of course, now and again, some people do come to see me but usually it's for a reason. No matter, because in this world you enter it alone and you will depart it alone. As I have previously said: – we all have to decide ourselves which sins we can live with. In my own case its best that all know I am not looking for forgiveness from anyone. I'm sorry for many things and expect to get punished, as I am now, for things I have not done. However, I do not seek nor will I ever seek the forgiveness of anyone. I may ask for understanding and I hope those I love and who love me do truly understand.
Friday 16 June 2017
07.59pm – Another somewhat difficult day but moving on. Health wise I'm feeling better but that may be just coincidence. I will have to start a bit of a routine from next week because I am falling foul of any commitment.
08.01pm – On Monday, Dec Cluskey of The Bachelors coming to see me. Wow!!! I mean in the 1960s they were the biggest pop group going. There you have it. So very kind.
08.02pm – I note that Idoia Riano from ETA has been released by Spain.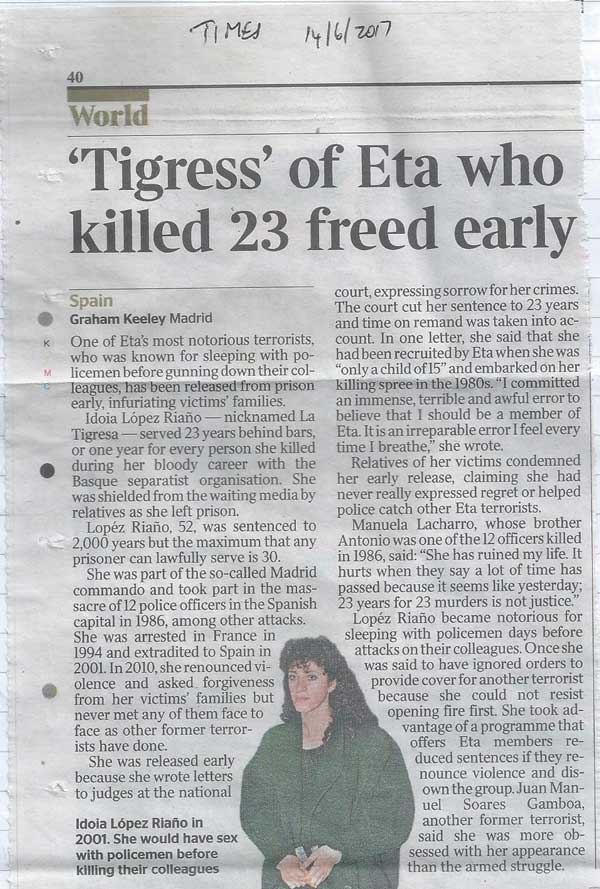 Quite right too, and, if only the UK followed the example of exhibiting some compassion to those that have erred in life.
Saturday 17 June 2017
08.30pm – If anyone thought I was crazy when I said that when I return to Italy within two years I will be the PM of the country think again. See the news article below.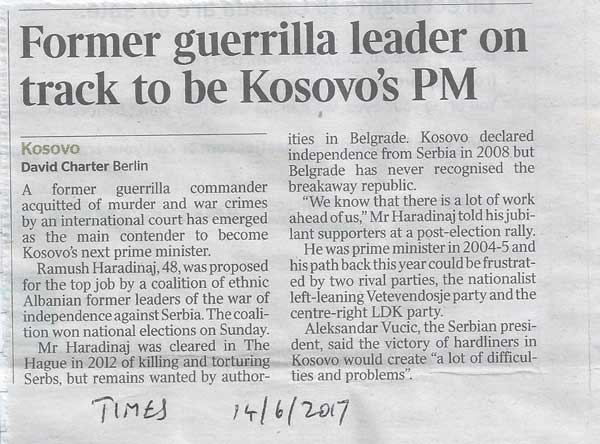 Ramush from Kosovo was in a worse position than me and look at him now…need I say more?? Now on another front I am not surprised that President Vucic of Serbia has appointed the first 'gay' PM!!!! My sweet Lord it was only yesterday, actually 1993, 4 and 5 that the Serbian police were targeting homosexuals. Yet today Serbia is a future EU member and must move with the times so well done to Vucic. As ever my support goes to the Presidency of Serbia no matter who fills the position.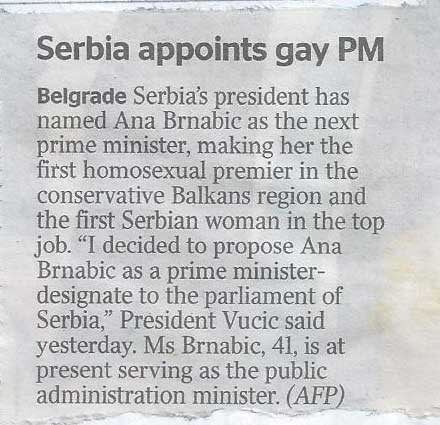 08.34pm – Sorry stopped to drink coffee. Today was a good day. 22 years ago I made the greatest decision of my life…and it was a Saturday also….
Sunday 18 June 2017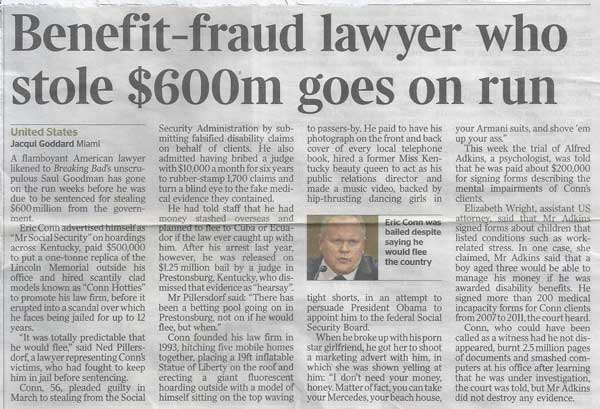 07.24pm – I know it's a United States case but boy oh boy the above is a true feat!!!! Steal $600 million and you get a free ticket to obscurity!!!
07.43pm – Today has been a working day for me. In Iraq, Sunday is a working day so I just imagined I was back in Iraq and wrote over ten letters answering correspondence. The day has not been without incident because it's hot as hell – about 30 degrees and by the way where is the evidence that in hell it's hot!!!
07.45pm – Today I reviewed a case involving appeals by the Crown on a terminating ruling. Watch out CPS – you have made a massive eff up!!!!
Monday 19 June 2017
09.51pm – Today I saw Dec Cluskey and his daughter Victoria of The Bachelors who were at one stage bigger than The Beatles. It was very kind of him to see me and come all the way to this far out place.
09.51pm – No Government has been established and the Queens speech has been delayed that is tragic for foreign nationals. So I must wait a short while more.
Tuesday 20 June 2017

08.32pm – Well, tomorrow Kenny will once again be before the Parole Board. As I have said it is a total disgrace how he has been treated and how the Government reneged on a deal that he would be released once his tariff had expired. Never mind because that is the past. We have to all of us look to the future. This time he will go to open prison and he will ultimately be released.
08.35pm – Still no formal opening of Parliament and still not Queens speech – incredible!!!! If the Tory Party can't get a Government together they must call for another election and do it now!!!!!
09.42pm – Today is the longest day of the year and boy oh boy how I felt it today. Had to work but managed to do all in a few hours. Today the Queens speech took place and Parliament opened. Now we must see how things get on with all the foreign nationals.
Wednesday 21 June 2017
10.07pm – Not feeling so good today. I guess it's just one of those days. The whole problem of humanity can be easily solved by just sitting in a room and doing eff all. That way all conflicts and problems are resolved.
Thursday 22 June 2017
10.09pm – Today was not as hot as yesterday. Feeling OK – just.
Friday 23 June 2017
11.17pm – Feeling not well yet again and still not able to see doctor and no antibiotics. I thought I had got rid of my infection but no such luck, doing my very best with paracetamol and multi vitamins.
Saturday 24 June 2017
07.24pm – Not feeling better but am slowly getting better, as I am taking paracetamol every four hours. That seems to be doing the trick – I hope. I loathe being not well. It's been on me since December 2010 and that is seven years. Jeez will it ever end and I get better?
Sunday 25 June 2017
09.59pm – When I read this article in the Sun the other day one thing struck me as odd: – two of her boyfriends mysteriously killed themselves. Now that is odd.

Of course, I fully understand and there is more to Christine Connor than meets the eye and at some stage in her prison sentence – sooner rather than later – she will just disappear from the scene – quietly of course!!!
10.11pm – I need to call Caroline at some stage but damn it am out of telephone credit. I do my best but in the past four and a half years I really have had to struggle with only being able to put money on my telephone credit by a very limited way – maximum I have ever had it was £20 when most others have well over one hundred. But you know what? I do my best and that is all anyone can ever do. I will continue to do so until the day I depart this shite world.
Monday 26 June 2017
09.04pm – It is best today if I actually write nothing for reasons that are clear to those that actually count in my life. So I will say nothing. The deportation of foreign nationals in this country, and the 'discount' of maximum 270 days from sentence is entirely discretional and not really subject to any legal review. So let's just keep smiling and get on with life because time stops for no one.
Tuesday 27 June 2017
09.48pm – There is some movement on the deportation/removal front because three people were given their tickets today but for dates in September, still, at least something. Unable to really call anyone as no money on my PIN phone until late this week. That is just how it is and has been since 2013 and I doubt it will change for the better. Luckily my job pays me each week sufficient to put money on the phone. I really don't give a damn about buying toiletries and sweets and food. I have managed OK since 2013 and have now got used to it. Yes I do miss some of the things like chocolates etc but I'd rather put money on the phone than have sweets. My family is more important than my stomach.
Wednesday 28 June 2017
09.00pm – Not so nice a day because eff all has occurred. No news about anything and the weather has been rubbish. Never mind we must move on. I noted that my friend – yes my friend – Jonathan King has been indicted yet again for alleged offences dating back almost fifty years!

Absolutely disgraceful of the Government to allow this. Leaving quite apart whether he is guilty or innocent – I believe him to be innocent. To charge him when they could have done this in 2001 is almost as bad a crime as the one he is alleged to have committed. Someone, somewhere, must put forward a Statute of Limitations. How the eff can anyone prove or disprove an indecent assault fifty years ago? What forensic evidence exists? So it's down to whom twelve people believe!!! JK has been convicted so that won't help but it does not add to the value and quality of the evidence! Sorry but this is perverse and I hope JK takes this seriously or he will find himself back in prison an innocent man – again!!!!
Thursday 29 June 2017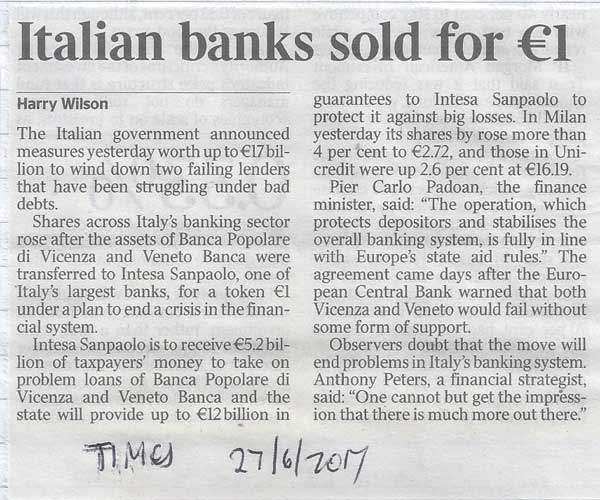 09.55pm – I just happened to catch this announcement about Veneto Banca sold for €1 to Intesa Sanpaolo Bank in Italy. Veneto Bank in the 'old days' belonged to Michele Sindona. It has taken too long for the circle to come full circle!!!! I would never have sanctioned this deal. It is only a temporary solution.
Friday 30 June 2017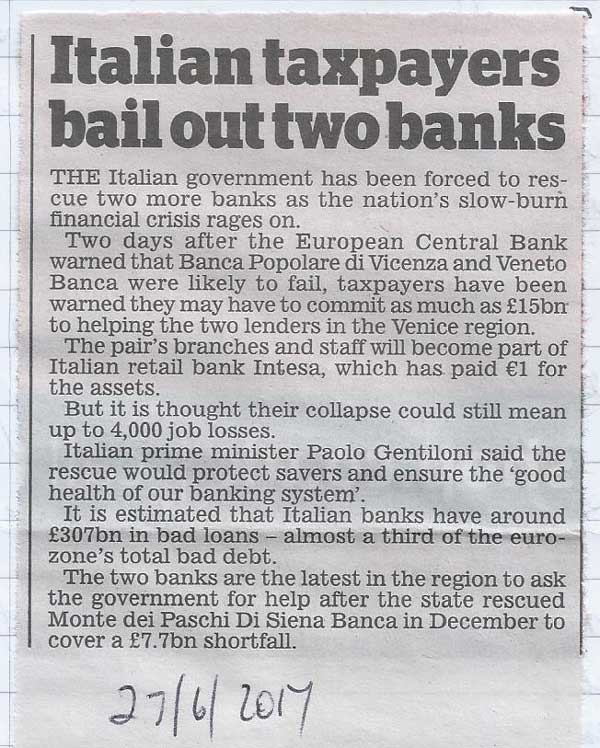 07.01pm – I came across this article again about the State bailing out Italian Banks. Too much money is adrift and rest assured I will not allow this, in due course, when my time comes. Banks are not supposed to lose a cent let alone billions. Punishments will be severe and there will be no mercy for the culprits. People should have faith in banks. They are not a Casino.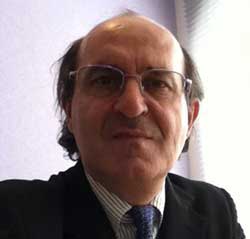 GDS
NB: Written by Giovanni Di Stefano and edited and published by Caroline on GDS's behalf. – July and August coming soon!
NB: Some images retrieved from Google, will remove at owner's request.