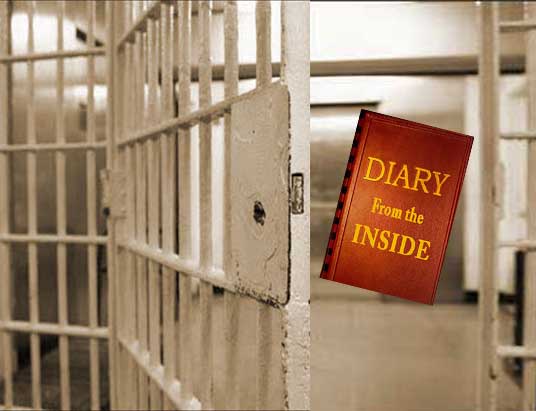 Monday 21 January 2019
07.14pm – Feeling a bit better, in fact, I have stopped taking 1500 mg of penicillin and I feel better. Whether I am better is another matter but at least I can sleep OK, my stomach does not hurt and I feel better. So, there it is – a risk. A gamble I have to take with my life.
07.16pm – I have today sent the Secretary of State for exiting the EU formal notice of my Judicial Review. I will await the reply from the Government Legal Department before moving ahead. You know one thing, I actually detest litigation and I loathe the law even more but it is all we have, so, we need to do the best we can.
Tuesday 22 January 2019
08.09pm – I did hear from my lawyer today and it seems the intellectually dishonest Court of Appeal are again playing games. Oh well, did I expect anything less??? No of course not. We shall see how they get out of this situation claiming not to have received the application from Karen Todner for me.
08.13pm – The weather has turned cold. I have no coat but I have borrowed a lined jacket but it's not the same. Never mind, I had a nice card from Yazmin today about my friend Carl. He is such a nice boy and wholly innocent. He was at the wrong place, wrong time, and wrong colour at trial. An utter disgrace but I will continue to fight for him.
Wednesday 23 January 2019
07.58pm – Not really very much to report other than, for some reason or another, I am eating only a few grams of food yet my stomach is swelling and I seem to have put on about 8kg in weight. So, the various scenarios are not at all very appetizing and leave me with some concerns. At least, I am concerned about me so that is a relief. The day I stop caring about me, then, some may well have issues with their conscience as to what will be!!!
Thursday 24 January 2019
12.39pm – It's Holocaust Day soon and to all those who wish to remember the crimes of the Nazi's I also have to pose another question: – Allied planes were actively involved in reconnaissance and united bombing missions against some of the industrial installations outside Auschwitz-Birkenau. I thus, call upon the UK and the USA to explain why they failed, in fact, refused, to bomb the camps even though by 1944 both UK/USA had conclusive proof of what was going on there and, they could have easily used the bright flames from the crematoria as target sites? Why? Further, why did the UK/USA refuse and fail to bomb the railway lines leading to the camps which would have cut off the means of bringing inmates to the camps? Why? Now, I know the answer and many leading Members of the Israeli Cabinet (past and present) know the answer, so, can the Government of Great Britain and USA explain those two questions before I say as it is???
Friday 25 January 2019
08.12pm – Do you ever have days when your patience finally runs out and you become who no one wants you to be? I am almost at that point, in fact, I am at that point and must now show my colours.
Saturday 26 January 2019
10.22pm – My youngest son reminded me that we have not seen each other for over six years! What kind of system in a supposed democratic country allows such? If anyone says that this country abides by the Rule of Law and common decency, I will call them liars – acute liars. I have to say, however, that the Governor here has allowed me to have photos taken to send to my family. For that I say thank you to the Governor. I get the feeling that, the Governor's hands are as equally tied as mine. He wants to do more but cannot.
08.26pm – Tomorrow, I will do a press release to mark Holocaust Day! The questions I posed in my previous entry is yet to be answered. Why did the so-called Allies fail to bomb the concentration camp crematoria towers? Why not bomb the railways. The answer I know, but it is so controversial that I must think whether I can tell!!!
Sunday 27 January 2019
06.43pm – Not really much to report today other than it's cold as hell outside – that makes no sense because hell is supposed to be hot – anyway, I'm OK because I have not popped even my head out of the door and have no intention of doing so. There is so much (what I call) 'justice' work to be done here. I can only do so much but I am helping as many as I can.
06.38pm – Caroline has sussed out who J.M. was in my 1973 adventure. Well done to her, hope she can predict the lottery numbers…well, we have to have a laugh or it would be tragic!!
Monday 28 January 2019
08.06pm – Am not well – again. This whole health shite is getting me down and I don't know how much more I can take. OK, OK, I'm 64 but what the eff, so much illness, I really feel like asking the Governor to allow me to go effing Dignitas in Switzerland because this place is no place to be ill. I'm just peed off. These people have lost my passport and I'm ill. What the eff more can actually become of me? I'm not moaning but just saying.
Tuesday 29 January 2019
07.23pm – Another totally wasted day, as have been the last 6 years. But then what did I expect? When I did the Van Hoogstraten case way back in 2002, I was told by a senior person, at the prison service, that, if I ever come 'in the hands of the prison service I would pay the price for what I had done in that case.' I really never gave it a thought because at the ground level the Governor, officers, and crooks, had all treated me with kindness, understanding, and respect, save one or two. It is those 'faceless people in grey' at the Ministry of Justice that have followed exactly what the prison service person told me all those years ago.
Wednesday 30 January 2019
09.59pm – A very cold day but the sun was shining. Not really much to report other than, I'm feeling a bit better but I do think something is wrong with me. I have ceased taking the antibiotics, too much for my liking, and I will take my chances on getting better by my own body defenses. I'm eating only a few grains of food per day and drinking a lot of water which seems to be quenching my hunger. I am so tempted to eat but I resist.
Thursday 31 January 2019
08.46pm – Effing hell last night I dreamt I was brown bread – dead – but do you know what actually worried me…you will never believe it – I was dreading the post mortem!!! I was dead but I could actually see me from above. I guess that is why they say that when you die the soul remains but fly's up to the sky!!! Weird eh? Tonight, I went to the library and saw a book written by Marnie Palmer, the legal wife of John Palmer, and the book was called Goldfinger. I was mentioned in a derogatory manner but dear Marnie forgot to mention that was it not for me winning her husbands' case she would be out on the streets. If the rest of the book tells as many lies as what she wrote about me then don't bother buying it. John Palmer was very correct towards me and I won't have a bad word said against him. The police are as much to blame about his murder as whoever did it. However, my own view is to let the man rest in peace, please. He was fundamentally a good guy and never divorced Marnie for reasons that one day I may reveal. Marnie has not behaved correctly when he was alive and worse now, he is dead.
Friday 1 February 2019
08.08pm – People always complain about Members of Parliament and I have to admit I am as bad an offender of this as anyone else. However, Sir Roger Gale, MP, is really on the ball, correct, and tries his very best. He has acted for me since 2014 and it's not that he sides with me – he sides with what is right and just. I am so pleased he became a Privy Councillor even though it is a ceremonial rank, still, he is worthy of the title.
08.11pm – Am feeling a bit better but no means at my best but better than a week or so ago. I just need to make it through this shite to be able to see my mother.
Saturday 2 February 2019
07.49pm – My sweet Lord, how inexperienced and lacking in knowledge of the law are those working in the confiscation unit of the Ministry of Justice. It is quite embarrassing, actually. I received a letter which is an embarrassment to the judicial system. I am so glad that I will be leaving this country. The government must concentrate on education because those starting in the profession are ill prepared. As a result, serious errors are made. For my part, I am a real and proper Jurist and it makes me sad to be a witness to the ill-informed who are given power.
Sunday 3 February 2019
06.12pm – Another most uneventful day with not much happening. There is certainly no rehabilitation in this country, even though the purpose of prison is clearly defined in the Criminal Justice Act 2003 s.142. Have a look at it. None of the 'purposes' are actually carried out. So, there it is. The point though is – no one actually gives a feather or a fig!!!
Monday 4 February 2019
08.13pm – I have had to drop a line to Karen Todner just to find out what is happening. Let's see what actually is happening. Today I heard a great saying: "Don't hang the meat in the window if it's not for sale." How funny that is.
08.19pm – I will be filing another Parliamentary Petition about The Criminal Justice Act 2003 s.259A. Would you believe it that although it's on the Statute Books the Minister still after 11 years not 'commenced' it? Why not? What the hell is wrong with people? The Parliament passes important laws only for the Minister to 'forget' to start it??? You could not make it up.
08.17pm – Time is really passing quickly but it's no consolation, I want to make one thing really clear – I am not guilty of what I was convicted. The conviction was obtained by fraud itself and I will prove it.
Tuesday 5 February 2019
09.09pm – Golly gosh or hell – it's February already. Today, I wrote to The History Press the publishers of the book 'Goldfinger and Me' by Marnie Palmer and Tom Morgan to correct them on what they wrote about me. When I actually read the letter, I wrote I couldn't believe the amount of work I did for John Palmer and just how successful it was. One day, I will write about the case but now is not the time. The poor man was brutally murdered and he did not deserve that nor did he deserve the apathy of the police to find his murderer. May his soul rest in peace, he was always correct towards me.
Wednesday 6 February 2019
08.20pm – How many numbers are there between 0 and 1? Now, prima facia, you would say 1 or many people would say only 1. Yet, that is not correct. In fact, it is so wrong that it is truly wrong. There are infinite numbers between 0 and 1. For example 0.1, 0.2, 0.12, 0.13, 0.012 etc, etc. You get the picture. It's really only a question of numbers. So, how many years, months, weeks, days, hours, minutes, or seconds, do we have left to live? Who cares! It's only numbers. So, while I am here it's not about where you are but about how long you will be there – but it's only numbers – so who cares?
Thursday 7 February 2019
07.53pm – Love you know, is a wonderful thing but sometimes it makes a person do things that are clearly illogical, crazy, and often unlawful. Most murders are in fact domestic. You find your wife, or husband, having sex with another, and it drives you to murder. Look at the Bible, for example, Samuel Book 2 Chapter 11 verses 1 – 27. King David in his lust for Bathsheba, another man's wife had Uriah the Hittite sent to the front to be killed so he could covert with his wife. That is conspiracy to murder. Today, he would get a life sentence. However, back then verse 27 'But the Lord was not pleased with what David had done.' The Lord forgave David but the punishment – there has to be punishment – was that the child of King David and Bathsheba would die. Is that right? What had the child done that he should suffer the punishment of the sins of the father? That apparently is justice. Later King David and Bathsheba had another son called Solomon who became known as the wise man. You see, throughout history, it's always the innocent who pay the price. Things have not changed. What a tragic world we live in! However, I have faith because faith and justice are not related.
Friday 8 February 2019
12.53pm – The other day someone said to me that I should 'go to hell.' That of course, is what Donald Tusk said, that those who voted for Brexit without a plan should go. In fact, he said: "a very special place in hell." You know what I told the guy who said I should 'go to hell?' I told him that with the meek inheriting the world, hell is the only place left for the others. We had a good laugh about it. You see that is how it is here – one minute there are issues then the next it all 'cushty.' I guess, 'War and Peace' was founded on prison life.
12.56pm – Some people have asked me when will I make a statement about the circumstances surrounding my wrongful conviction? The answer is soon. Watch this space.
Saturday 9 February 2019
06.52pm – Not really very much to say, which for me makes a change. Have been working hard these last couple of days. Let's see how things pan out. I have a good feeling.
Sunday 10 February 2019
(11.14pm 09/02/2019) – Tell me if I'm wrong but was it not the poet William Blake who some 200 years ago wrote
'He who binds to himself a joy,
Does the winged life destroy;
But he who kisses the joy as it flies,
Lives in eternity's sunrise.'
But who wrote this:
'The love screams of a married lover;
Are written in the wind and waves.'
10.20pm – You know, being in this kind of places I can't even remember when you greet someone in Europe which side of the cheek you kiss first! If you know, let me know, please. I have to re-educate myself.
Monday 11 February 2019
07.06pm – Another uneventful day which serves no purpose to man or beast. Let's see what tomorrow brings.
Tuesday 12 February 2019
07.35pm – Mexican Joaquin 'El Chapo' Guzoman has been convicted in New York of a number of charges including murder, and drugs. Was there ever any doubt? The moment he was in the USA it was a mere formality, regardless of whether he was guilty or innocent! Also, innocent? No in Court you get guilty or not guilty. You don't get 'yes you did it' 'innocent.' So, I won't compliment the prosecution because the amount of publicity no jury anywhere in the world could be deemed unbiased. Let's see the sentence imposed….
Wednesday 13 February 2019
06.40pm – I'm beginning to worry now. I have not heard from Karen Todner for over three months. What is happening? I really don't know so it's a cause of concern, to say the least. I hope all is OK. The weather is truly incredible, sunshine and it's not at all feeling like a February. Boy how time is flying. As you get older it does.
St Valentines Day Thursday 14 February 2019
08.12pm – What a shite day. No immigration coming to see me as promised. Tomorrow, though, the Governor said he would come to talk with me, so much for Valentine's Day!
Friday 15 February 2019
07.15pm – Well, eff all today. No Governor came to see me as promised. No immigration officer came to see me as promised. No post. No Valentine's card, in fact, sweet F.A. Never mind! I am reminded what Daniel Defoe wrote (1661-1731)
'Wherever God erects a house of prayer,
the devil always builds a chapel there;
Then there is good old Ben Johnson (1573-1637)
Who says that Giles and Joan at discord be?
The observing neighbours no such mood can see.'
I'm trying to cheer myself up trying to remember my English Literature and the complex metaphysical poets that were obligatory at school. Why who knows! But I'm glad because it takes my mind off the shite situation.
Saturday 16 February 2019
08.59 – I really can't quite believe that since July 2018, it has been known that there has been political interference at my 2013 trial by the Judge, the Prosecutors, and the CPS, the police, all participated in falsifying my PNCs. Yet, despite this nothing has been done. That means the State is greater than Justice. Well, that being the case I will look to the State to put right what wrongs have been caused to me.
Sunday 17 February 2019
06.43pm – I need to stop moaning and feeling sorry for myself and grab the situation by the horns. I will.
06.44pm – I read that Mick Jagger will be from now on monogamous. In other words, a one-woman man! Well after 4,000 women, at some stage, one needs to settle and at 75, I guess the time has come. I met Mick a couple of times at Tramps (yes, even now I'm still a member – it has not disowned me) and I asked him why so many women? He told me he loved pussy in any shape or form. I'd heard similar from Sean Connery when we were filming the Russel House. I told Mick that if he loved pussy so much would he be leaving part of his estate to the Blue Cross Cats Home? He burst out laughing so loud I think he may just do that!!!
Monday 18 February 2019

08.09pm – A couple of things today. I'm sorry to learn the death of Lee Radziwill, who was Jackie Onassis's sister.  I had the honour to meet her a good few times in Beverly Hills, and she was truly a lady with so many stories to tell. I don't know who I liked most between her and Zsa Zsa Gabor but Zsa Zsa was the better dancer. May God rest her soul in peace and I'm sorry she passed away. My condolences to her daughter Anna. I hope Caroline sends her my condolences.
08.13pm – I saw immigration today and the news is as expected. Let me first get confirmation before I take any action.
08.14pm – Finally, I have greatly wronged HHJ Alistair McCreath. I will one day apologise to him personally. He did things heavily in my favour and I never realised because I was full of malice and wrong information. I will truly apologise to him.
Tuesday 19 February 2019
08.55pm – Today I nearly made a grave error of judgment and invoked an ancient curse on all those who have caused collateral damage on my family, by wrongly convicting me. I can't use the ancient words for the curse of the innocent. As my eldest son said, "those will hurt themselves with their own hands – no need to help them, dad." He is right! No room for bad feeling or wishing people, even evil people, harm. No, I must remain what I am, a person of peace and forgiveness, and not allow my anger and frustration to change what is good in me. However, I will fight for what is right and I will do so with all the strength, and abilities.
Wednesday 20 February 2019
09.53pm – Tonight I watched the great film 'The Wife' with Glen Close. I needed some distraction and boy, oh boy, what a wonderful story. It is actually based on the life of a real situation, maybe more common than one thinks.
09.59pm – I got in today on quite an important meeting about the direction of the prison. I have to do the best I can. Of course, I should not be here but I am, so, I have to make the very best of it and to do my very best. I always use my time never do I pass time.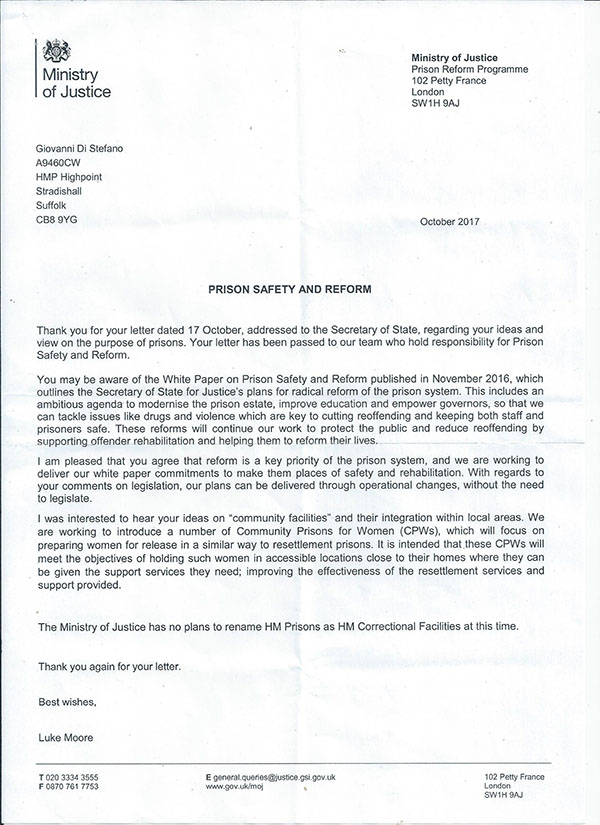 Thursday 21 February 2019
08.22pm – Caroline really has done a terrific job on OPC Global. I am immensely proud of just how great a job she has done. That is all I can say. Wow!!!
08.23pm – Today has been a warm day and the next few days will be warmer. I'm glad that on Monday I did not invoke the curse of the innocent. All those who have wronged me will by their own deeds fall foul of what is good in life. Some people say I'm too soft of late, no, I'm just correct and I expect others to behave in a similar manner. Well, we live in hope, don't we?
Friday 22 February 2019
06.40pm – I have been trying to avoid being controversial but I cannot just remain silent to all and sundry. Rosemary West was convicted of 12 murders at Winchester Crown Court in 1995. She has never conceded guilt. There is a reason why she takes this stance. You see her husband Fred West did not commit suicide but was killed in prison. No tears spilt for what he did. That left the public without a villain – step in his wife Rosemary West. There was not a scrap of evidence against her, save for Caroline Owens who was assaulted by her in the past for which both Rosemary and Fred were jailed for ABH.  The Prosecution advanced propensity. Absolute nonsense. From ABH (S.20 of the offenses against the Person Act 1861) to 12 murders is no propensity. Rosemary refuses any admissions because she did not do it!!!
Saturday 23 February 2019
08.37pm – Today I did some considerable detailed work on an important issue of Law. I also heard 'I Migliori Anni Della Nostra Vita' which made me very happy. Not much is really happening because at the weekend nothing does happen – not much seems to be happening during the week either. I mean, what kind of country is this that cancels Court of Appeal hearings on Monday for no good reason. I really don't know what country this has become.
Sunday 24 February 2019
07.46pm – I need to apologise to those who religiously read my diary. The last few weeks have been an awakening for me. You see, I actually believe in justice and the law. I know that the law as it stands is not so good but frankly, I would be scared of what comes second. So, we need to update the law and I urge upon you all for any grievances to contact your MP and draft a Petition to Parliament. Look at mine, in Hansard of 21 November 2018 and that is the format. The context you draft is what is important.
07.50pm – Have not been able to call anyone today. It's incredible I have not seen my family in 6 years plus!!!
Monday 25 February 2019
07.08pm – Yet another quite pointless day serving absolutely zero purpose. This government and the courts of this country are totally intellectually dishonest without any plan or purpose. Notwithstanding, we will survive this.
Tuesday 26 February 2019
07.55pm – Everyone keeps asking me "when are you going Gio?" and frankly I'm getting really pissed off big time. The answer is I don't know, my travel documents have been 'lost' and like the forged PNCs used to convict me no one gives a damn. So, please, I just really wish they would all just leave me alone and talk about the weather, or horses, or some shite. Other than that, a great day.
Wednesday 27 February 2019
07.19pm –
When a Legend becomes a fact: – 
Print the Legend
Thursday 28 February 2019
12.31pm – Michael Cohen the ex-lawyer of Donald Trump has called him a:
Well, I guess he has had his day in Court. For me, Michael Cohen is a disgrace to lawyers. Rule Number 1: never slag off your ex-clients. Boy, oh boy, liar, racist, conman, cheat – and I thought I had it bad????
Friday 1 March 2019
08.33pm – I am not calling anyone of late because I don't see the damn point. It's unfortunate but time has made me the forgotten man. So, I guess no real reason to give people reminders.
Saturday 2 March 2019
08.15am – I have often been asked, recently in here, whether I believe in abolishing the death penalty, capital punishment? I would love to say it as it is and repeat the wise words of Alphonse Karr (1808-1890 boy I hope my memory does me credit on dates) and say:
"If we are to abolish the death penalty, I should like the first step to be taken by our friends the murderers."
However, even I am not so controversial these days. Nevertheless, did you know that no one has yet 'come up' with the de jure definition of 'death.' You see, if you are religious whilst the body dies or has no breath left, or whatever you can define 'death,' the soul lives on, and that means that you never 'die.' I suppose it's only when one can 'kill' both the body and soul should one be charged with murder?  Interesting question eh? Your views would be appreciated. Hey, I thought… what if one kills the soul but not the body!!! What charge could be levied? How can it be proved? Golly gosh, or heck, how interesting is this discussion! I may write a paper on it!!!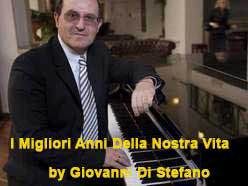 GDS
NB: Some images retrieved from Google, will remove at owner's request.