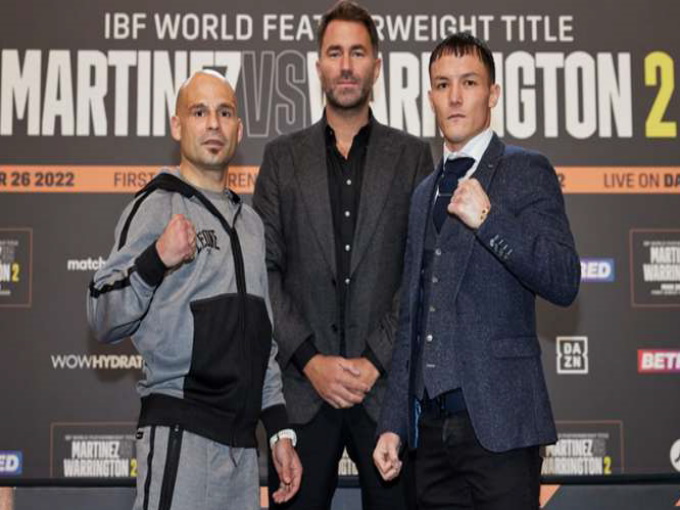 'La Sensation' returns to get into a ring and does so with the world championship of weight hanging on his shoulder. Kiko Martínez (Granada, 1986) puts in defence for the first time the title won last November in Sheffield against the local boxer Kid Galahad. Kiko will have to face an opponent at home again, but throughout his career he has shown that this should not play against him.
Kiko Martinez reunites this Saturday with Josh Warrington. They will fight at the First Direct Arena in Leeds, the British boxer's hometown, where the faces were already seen in 2017. Then it was for the WBC international featherweight title, a step prior to the dispute of the absolute world championship and resulted in a controversial defeat for the Spaniard by majority decision of the judges.
The 2017 will not be repeated, Kiko is promised. At 36 years old, the one who arrives as champion is him and absolute, in addition, to do at the end of last year with the IBF world title of featherweight. In Sheffield he got rid of Galahad from a 'kikazo' to close the circle that began in 2014, when he won the world supergallo title for the last time. World champion in two weights, Kiko Martínez is Spanish boxing history as was Javier Castillejo.
Kiko will look for the KO against Warrington: "I said I would be world champion again and I did it again. I said I was going to beat Callahan before time just like I say I'm going to finish Warrington early on Saturday. I'm still confident, I still believe in myself and I'm still Kiko Martinez," he said this week at the pre-evening press conference. He will not allow a repeat of the 2017 scandal that halted his pursuit of the world title.
A scandal in 2017
In that first head-to-head of the two fighters who will fight again this Saturday in Leeds, Warrington was the favourite and met a combative Kiko who took the initiative of the fight. Perhaps the British showed off in some actions, but the best blows were from the Spaniard. In addition, Kiko was harmed by two involuntary headers from his rival that opened two gaps in the eyebrow area.
The judges, however, rewarded the local, with two of the judges scoring 116-112 in favour of Warrington and the third, English, voting a tie at 114-114. But that is past and Kiko, as champion, intends to take advantage of the opportunity against a prestigious rival: "I have to beat him to have more credibility in the world of boxing and show that it was not a stroke of luck that of Callahan," he said in the previous one.
Kiko Martinez returns to fight in the British Isles. He will do so under the umbrella of promoter Eddie Hearn, who in February last year had to publicly apologize to the Spaniard for the unacceptable unanimous decision of the judges that cost him another painful defeat on British soil. It was at Wembley against Zelfa Barrett.
Kiko's story is summed up with all these unfair sticks that he has been replenishing every time. That and his obligation to take the suitcases every time he has had to face a major challenge throughout his career. In Sheffield he became world champion and in Leeds he will defend his title in search of a contract that recognizes his figure and serves to put an end to his career.
To the best of our knowledge, he currently has no more than two fights remaining on his contract with Matchroom Boxing. "One more year in boxing and I retire," Kiko confessed to EL ESPAÑOL in an interview after his last world feat. Months later, what he wants is to take advantage of this opportunity to put a finishing touch to his career. The end will be in 2022, 2023, 2024… When he arrives, 'La Sensation' fights just as he has done throughout his career to have a legendary ending. Martinez vs. Warrington 2 kicks off.
EL ESPANOL
NB: Some images retrieved from Google, will remove at owner's request.