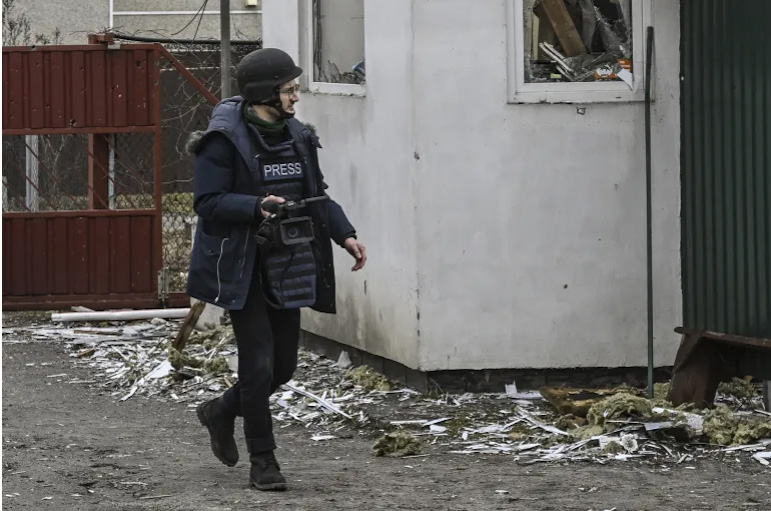 French journalist Arman Soldin, who worked for the AFP news agency, has been killed in a rocket attack in Chasiv Yar, near the eastern Ukrainian city of Bakhmut.
---
According to according to the Committee to Protect Journalists, he is the 15th journalist to be killed since Russia launched its full-scale invasion of Ukraine in February 2022.
Soldin was with a team of AFP journalists travelling with Ukrainian soldiers when the group came under fire from grad rockets at about 4:30pm (13:30 GMT) on Tuesday, AFP said.
The team took cover, but 32-year-old Soldin was killed when a rocket struck near where he was lying, AFP said.
"The whole agency is devastated by the loss of Arman," AFP chairman Fabrice Fries said. "His death is a terrible reminder of the risks and dangers faced by journalists every day covering the conflict in Ukraine."
The rest of the agency's team was unhurt.
Chasiv Yar lies close to Bakhmut, which Russian forces have been trying to capture for nine months, seeing it as a steppingstone to other parts of eastern Ukraine.
Soldin was born in Sarajevo, now the capital of Bosnia and Herzegovina, and was a French citizen, AFP said. He joined the agency as an intern in Rome in 2015 before being hired in London. He arrived in Ukraine to cover the war the day after Russia began its full-scale invasion.
Soldin, who led the agency's video reporting in Ukraine, had travelled regularly to the front lines in recent months.
French President Emmanuel Macron paid tribute to Soldin on Twitter, hailing his "courage".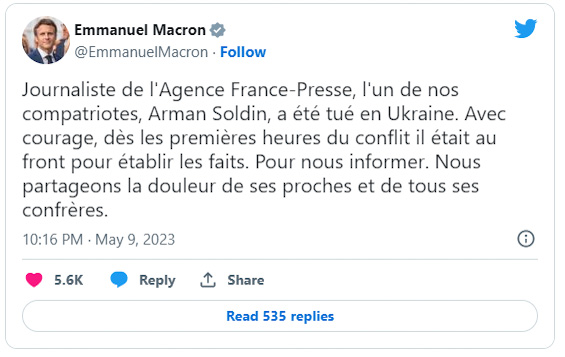 [Translation: A journalist from AFP, one of our fellow countrymen, Arman Soldin, has been killed in Ukraine. With courage, within the first few hours, he was at the front to establish the facts. To keep us informed. We share the pain of his loved ones and all his colleagues.]
Colleagues said Soldin knew in particular how to recount the lives of people caught up in the Ukraine conflict, desperately trying to survive amid the chaos.
In Kyiv, he found a tender moment between a conscripted father and his young son who had fled abroad, bonding over a strategy game online.
Earlier this month, he even rescued an injured hedgehog from a trench and nursed it back to health. He named it Lucky.
"Arman's brilliant work encapsulated everything that has made us so proud of AFP's journalism in Ukraine," the agency's global news director Phil Chetwynd said.
"Arman's death is a terrible reminder of the risks and dangers of covering this war. Our thoughts tonight are with his family and friends, and with all our people on the ground in Ukraine."
SOURCE: AL JAZEERA AND NEWS AGENCIES
NB: Some images retrieved from Google, will remove at owner's request.