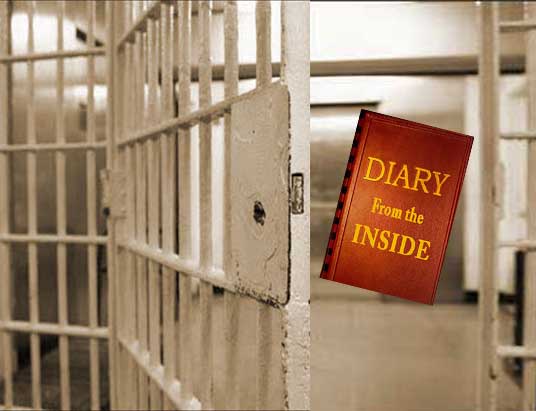 Wednesday 4 November 2020
06.03 pm – Who has won the US election? Heaven knows!! It looks like the only winners will be, as always, the lawyers. Now, today I saw on video call (Called Purple Visits – why Purple) Caroline, my young son Gianni, and my eldest boy Mike. I had not seen Mike physically for like 2/3 years – how time flies by eh, but by jeez how great it was to see him all of 41 now – where have all those years gone? Well, eight of those wrongly convicted in jail. But then I should not complain because Nelson Mandela did 26 years!!! I hope there will be some developments soon…
Thursday 5 November 2020
08.55 pm – Remember one thing about loyalty which applies to 90% of situations – people are loyal until it becomes opportune for them not to be! That applies to 90% but I'm lucky that I surround myself with the 10% who are loyal to me, my cause, and what is right, and for that I say thank you.
Friday 6 November 2020
09.28 pm – I have a feeling that next week things are going to turn quite judicially nasty. I have now found out why Judge McCreath was vindictive towards me. It's not so nice and he was right to resign as a Judge of the Crown Court.
Saturday 7 November 2020
09.16 pm – Just when one thinks that things cannot get any more bizarre it gets even more absurd and bizarre than ever. Received a letter from the so-called London Confiscation Unit telling me what a Judge has decided in my case without a hearing and without any Court Order. Bizarre!!!
Sunday 8 November 2020
08.30 pm – According to my son Michael, today I should have been released even on the most shocking calculations, but as you see I'm still here. That reminds me of a Diana Dors Song called 'I'm Still Waiting.' Ha ha! Let us see what blows tomorrow. I have written to the Governor so this coming week is showdown week.
Monday 9 November 2020
07.17 pm – Things are moving but only very slowly and I have to accept it. Having said that its best not to rush things and in the meantime, I am quite safe-ish!!!
Tuesday 10 November 2020
08.32 – 'Crime like virtue, has its just reward.'
Wednesday 11 November 2020
08.06 pm – What a great pity that there is no lawyer out there with my capabilities. Had that been the case then I would have been out long ago. As it is, I must just accept a changing world and consider whether there is any space for me in this 'ever changing world.' I can adapt of course, to anything. Prison is the greatest teacher of survival. The question is though: can I be bothered??? And if not, what course must I set???
Thursday 12 November 2020
08.14 pm – Tempers are getting a little frayed and I do understand why but I have spoken to all today – we must remain calm and hold our nerves. Let's see how this situation pans out.
Friday 13 November 2020
09.13 pm – All in all a very good day and I hope this continues.
Saturday 14 November 2020
08.18 pm – At the weekend fuck all happens, and coupled with absolutely shite weather you can imagine, can't you how one feels.
Sunday 15 November 2020
09.37 pm – Something quite unexpected has happened today which needs to be seriously addressed. Will a victory be a pyric one for whoever succeeds?
Monday 16 November 2020
01.32 pm – Today was supposed to be the day when the CPS were supposed to make a decision, but instead silence. I guess they will blame COVID. In fact, all the troubles of the past 600 years will be put down to COVID. If you get a boil on the backside it will be the fault of COVID. Absurd!!!
Tuesday 17 November 2020
08.56 pm – I must hold my nerve because – I hope – cautiously optimistic – may have good news on Thursday. So, we must all simply remain cool, calm, and collected.
Wednesday 18 November 2020
10.44 pm – Let us see what actually happens tomorrow. The whole situation is quite absurd and I really don't know how everyone is going to get out of this impasse. For me – my left arm is sore and twitchy, but then I have to remind myself I am 65. Yes, 65 and running out of life left to live and I really should not be in this position yet I am. How did it get to this level? Who decided to bury me in a concrete coffin? And why???
Thursday 19 November 2020
I really thought that today I would hear something from the CPS but at 4 pm all they did was to say they need another extension. So, on 17 November 2020 they were supposed to either fucking put up or shut up and they asked for an extension until today. Yet today they ask for an extension until tomorrow. Well tomorrow will fucking come.
Friday 20 November 2020
07.24 pm – Fuck all from the CPS. How disrespectful to dishonour their timetable! It is absolutely absurd to not keep to their timetable. This is truly dishonest. 4 pm came and went and fuck all.
Saturday 21 November 2020
10.40 pm – Today I had no intention of calling anyone, but then that simply would not have been fair. OK, I'm disillusioned with the system but I still must maintain my belief in the justice system. It's not perfect I know but it's all we have. So, let's just see how all this pans out next week.
Sunday 22 November 2020
08.57 pm – Tomorrow is a strategically important day. I really don't know how it is going to pan out but I hope for the best but I'm ready for almost anything. At the end of the day no one can stop time!
Monday 23 November 2020
In theory today I should be well and truly pissed off but somehow, I am not. Don't get me wrong: – I'm not throwing any party but I'm actually quite upbeat.
Tuesday 24 November 2020
07.57 pm – Donna Marie has produced some excellent forensic research into the powers – or should I say abuse of powers – of the London Confiscation Unit who pretend to be lawyer and the 'Court' dishing out committal warrants two a penny. Well, every day has its day, they say.
Wednesday 25 November 2020
07.30 pm – Today it is my daughter's birthday. Boy oh boy where the hell did all those years go? She is now a parent herself with three lovely children that I have not seen for years, because of this continued wholly unlawful and unjust detention. But soon I hope I will be able to see all my grandchildren and tell them stories of their parents as my grandmother did me. Happy birthday Anni "Kins." – VALI!
Thursday 26 November 2020
Well, it has been decided to do a Habeas Corpus application because there is absolutely no doubt that I have more than overserved time by as much as two years. Sad!!!
Friday 27 November 2020
12.36 pm – Not much happening today save, that everyone is busy working the Habeas Corpus. As for me – well now 17 residents have Corona Virus so it is a bit worrying but my philosophy is that if your number had come up it has come up and it's time to depart this mortal coil.
Saturday 28 November 2020
08.12 pm – The Habeas Corpus has been admirably completed by Donna Marie and next week really will – this time be decisive. Things have happened this week that frankly have made me believe in justice again – let's hope my beliefs are not shattered,
Sunday 29 November 2020
My favourite author Alexander Dumas!!! His books 'The Man in the Iron Mask' and 'The Count of Monte Cristo' explain how easy it is to think only of revenge when and injustice has occurred. C'est la vie!!!
GDS