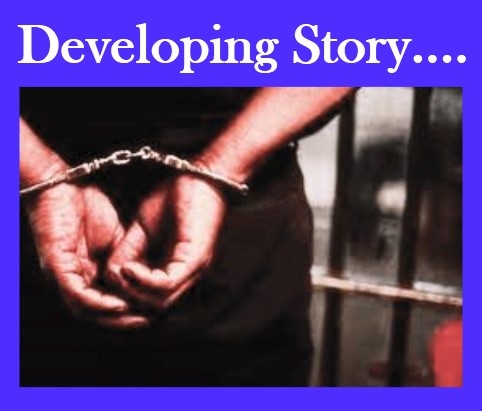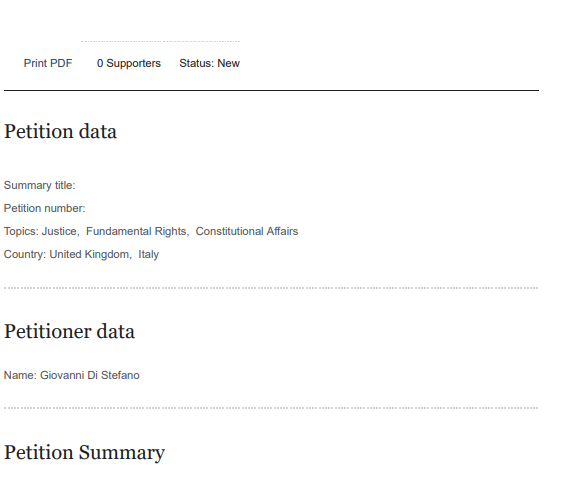 "The petitioner, a Mr Giovanni Di Stefano, complains that he is currently being held arbitrarily by the United Kingdom Government within HMP Huntercombe, Nuffield, Henley-on-Thames, RG9 5SB, Great Britain, in violation of the Fourth Protocol, Article 1, which effectively abolished imprisonment for debt and; contrary to domestic legislation, namely s.4 of the Debtors Act 1869 and; in violation of domestic case-law, namely R v May [2008] UKHL 28 and R v Chen [2010] EWCA Crim 446.
Furthermore, prior to the second reading of any Act, the responsible Minister is required by domestic legislation under s.19 of the Human Rights Act 1998 (hereinafter known as "HRA 98") to provide a statement regarding compatibility with the European Convention of Human Rights.
Nonetheless, however, the Proceeds of Crime Act 2002 omits such a statement and therefore, the responsible Minister has contravened s.19 of the "HRA 98" and in doing so, has rendered the entire Act incompatible with domestic legal requirements enacted by United Kingdom Parliament and in contravention of The Human Rights Convention. Therefore, consequently, the petitioner requests that this Parliament do censure, sanction, and order recission, on the United Kingdom Government for its indiscriminate policy of arbitrary detention not only upon the petitioner, but also upon other European citizens, and upon its own citizens mounting in the hundreds and ever-increasing contrary to domestic and international law."
Oxford/UK: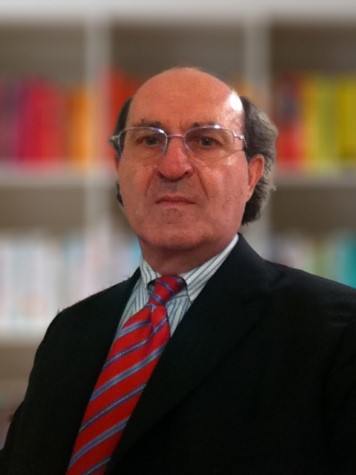 Controversial lawyer Giovanni Di Stefano languishing at a British Jail where Rudolf Hess was once held and arbitrarily detained for over a year has called upon the European Parliament to impose: –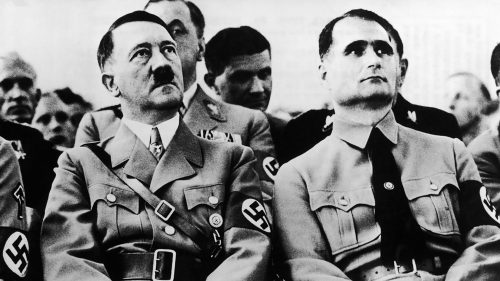 "Censure and sanctions" on the United Kingdom for its continued policy of arbitrarily detaining fine defaulters.
"There are hundreds of people in British jails who simply are unable, as opposed to unwilling, to pay their fine or court order, and according to their own law imprisonment for debt was abolished since the days of Charles Dickens. This government continues to impose imprisonment for debt which requires punishment by sanctions, exactly, the same as the United Kingdom has tried to do with Iran Egypt and China," said Di Stefano.
The policy adopted by the British Government commenced in 2003 when the British Parliament passed the Proceeds of Crime Act. The purpose of the Act was to ensure that criminals did not benefit from their ill-gotten gains within POCA 2002, parliament imposed a prison sentence in the event that a criminal refused to pay a fine or confiscation order. What Parliament did not do however, is to promote an extended prison sentence when it was clear that a criminal could not pay as opposed to refusing to pay.
Notwithstanding that an employee of the MOJ who did not want to be named stated that:
"In 2012 onwards the Ministry of Justice was pressing Judges to impose long custodial default sentences so that the public would feel that the criminal would not get away with the spoils of crime."
That created a quick response from the judiciary who from 2013 onwards imposed thousands of years of default sentences to drug dealers and other well known organised crime members. In some cases, the total combined sentence exceeded the statutory maximum for the offence. Drug dealers involved in cannabis can only receive a maximum of 14 years imprisonment, yet, with the imposition of a default sentence of up to a further 14 years, if the amount is more than a million pounds, would make the sentence double.
Powers of the Criminals Court (Sentencing) Act 2000 sec.139 (4)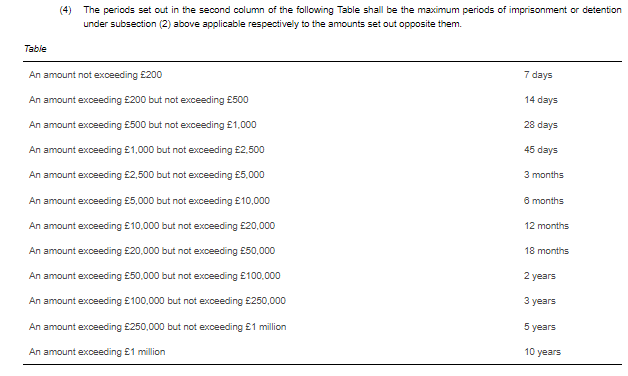 Targeted specifically said the spokesman where foreign national prisoners who would be deported at the end of their sentence and thus, no recourse to any other enforcement. The MOJ pressed Judges to specifically hit hard foreign nationals, in order that it would appear that their deportation would come at a considerable cost unless they "beg, borrowed, or stole" the money to pay for their fine or confiscation order.
Whilst United Kingdom continuously criticizes countries such as Iran, Egypt, and China for arbitrary detention both Iran and Egypt during the time of the COVID pandemic released 90% of its prisoners. The United Kingdom has only released 32 prisoners out of 100,000 prisoners and this includes 17 pregnant women out of at any one time and not all of those prisoners where pregnant when they came to prison.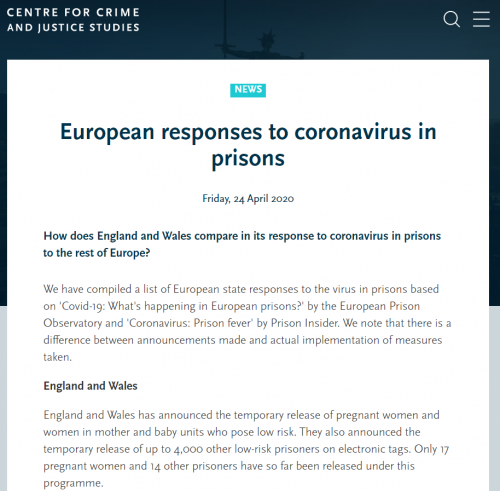 https://www.crimeandjustice.org.uk/news/2020-04-24/european-responses-coronavirus-prisons
"I have also been in contact with Sassoli David who is an Italian Politician who I know and is the President of the European Parliament and have pressed my own government to seek explanations from the United Kingdom as to why they continue this policy of arbitrary detention alien to all other countries in the world except for Malta," said Di Stefano.
Di Stefano was sentenced in 2013 to 14 years imprisonment for abuse of position at the Southwark Crown Court. Within days of that sentence the police officer retired from the force and within a couple of years the judge also retired early taking a promotion to the parole board- A number of warrants of commitment from the Westminster Magistrates Court were issued, all with incorrect data causing distress and confusion even to the prison service. Hearings that Di Stefano sought were either adjourned or refused on technicalities. In the High Court a Judge sought an explanation from the Crown Prosecution Service but none was forthcoming.
The biggest contention is that at Di Stefanos trial someone in government ordered the police to falsify and embellish the police national computer and create a criminal past that Di Stefano never had. Shortly after conviction that record was restored to its original, in that Di Stefano had a spent conviction in 1975 and therefore should have been treated as a person of no previous convictions at trial.
It was only due to an honest senior officer at the prison service at HMP Highpoint that the PNC anomaly came to light.
Uniquely, the matter is now back before the Court of Appeal: "There are hundreds of people in a similar position to me mostly foreign nationals and their own citizens, all who languish in the same rat trap that I am facing continuous arbitrary detention. The trouble with this country is that the government apply the law to the people and interpret it for their friends.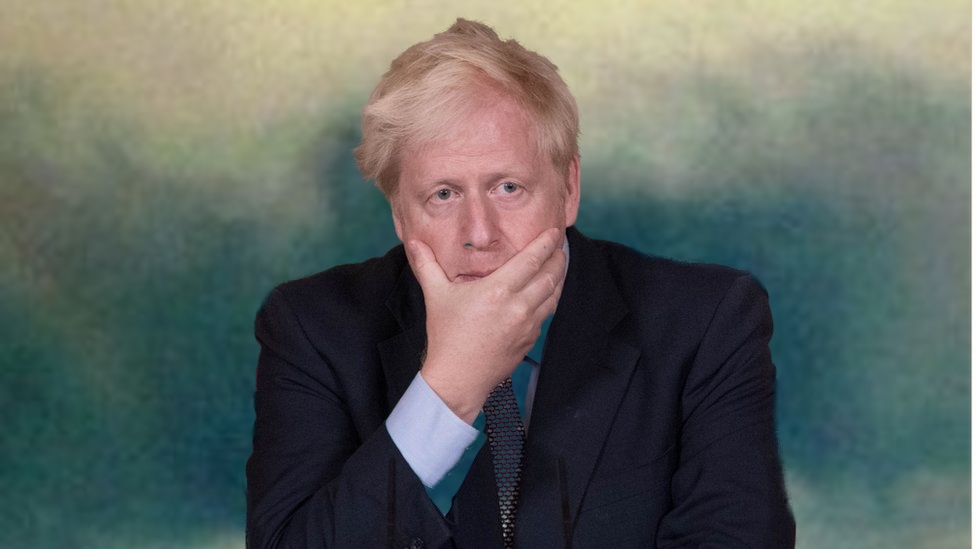 To think that I saved Boris Johnson from a conviction for stealing a cigar case allowing him to be a member of parliament and subsequently Prime Minister and he now promotes arbitrary detention by burying his head in the sand," said Di Stefano.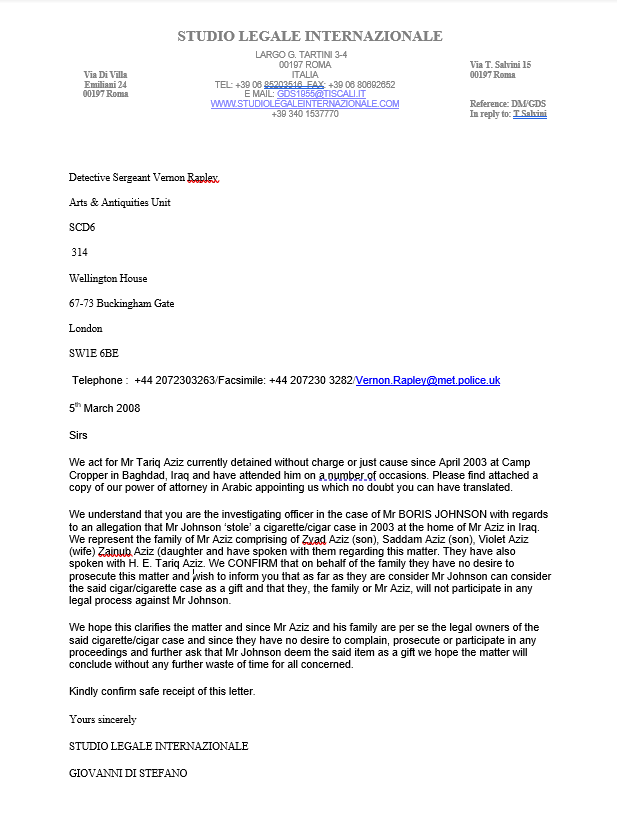 A leading lawyer said "All those prisoners affected by arbitrary detention should urgently contact their consulate and lawyers to intervene and put this right.
Arbitrary detention is unlawful in all countries of the world.
The Ministry of Justice declined to comment on the request of Giovanni Distefano to the European Parliament.
C Bayford
NB: Some images retrieved from Google, will remove at owner's request.