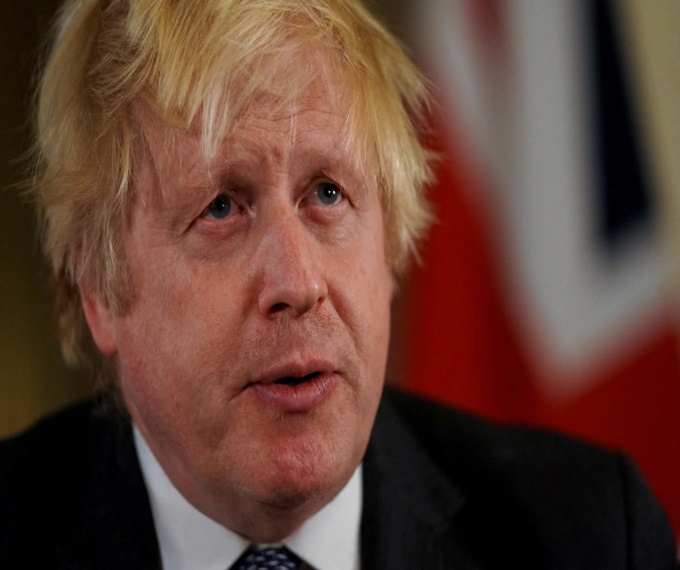 Conservative and opposition MPs are demanding answers from Boris Johnson over whether he attended a drinks event in the No 10 garden during lockdown.
Labour's deputy leader Angela Rayner said that if he was there, and he lied about it, his position is "untenable".
And Tory MPs have been expressing their anger and concern over the reports.
Mr Johnson will appear at Prime Minister's Questions at noon – his first public appearance since details of the May 2020 event emerged.
The prime minister has so far declined to say whether he attended the gathering, but witnesses have told the BBC both he and his wife were among 30 people at the drinks.
On Monday, ITV published a leaked email from Mr Johnson's principal private secretary, Martin Reynolds, inviting staff to "socially distanced drinks in the No 10 garden" on 20 May 2020 – when lockdown rules in England banned large outdoor gatherings.
The invitation encouraged people to "bring your own booze" and "make the most of the lovely weather".
Mr Johnson has said it is a matter for Sue Gray – the senior civil servant investigating a series of reported parties in Downing Street and in Whitehall in 2020 – to determine what happened.
The PM's official spokesman has also refused to confirm whether Mr Johnson attended the May 2020 Downing Street gathering. He added that the prime minister retained full confidence in Mr Reynolds.
But backbencher Nigel Mills told BBC Newsnight an inquiry was not needed to establish whether the prime minister was there.
"He knows whether he was there or not. Just come out and say what happened," he said.
Mr Mills said it would be "utterly untenable" for any senior figure who attended the gathering to be responsible for setting Covid-19 policy.
"If the prime minister knowingly attended a party, I can't see how he can survive," he said.
Conservative MP Huw Merriman insisted "more clarity" was needed from the prime minister on what took place and whether he attended, adding that people were "in the dark" about what went on.
He told BBC Radio 4's Today programme he didn't believe Mr Johnson should resign, adding that people should be judged on the positives and negatives, citing government achievements including the successful vaccination rollout and the prime minister "holding his nerve" on refusing to introduce further Covid rules in England.
On Tuesday, Scottish Conservative leader Douglas Ross said Mr Johnson must quit if he was found to have broken Covid rules.
Tory MP Charles Walker said the week's events have been damaging, adding: "The prime minister and the No 10 team will know that there were significant errors of judgment made back in May 2020."
But he added: "Not in mitigation but it was a fact they were all working extremely hard as many people were – they were working extremely hard in a sort of bunker environment – and I just think there was some poor decision making – I don't think it was malicious in intent."
Another Conservative, Christian Wakeford, tweeted: "How do you defend the indefensible? You can't! It's embarrassing and what's worse is it further erodes trust in politics when it's already low."
And in an email to her constituent, Caroline Nokes said: "I have no words that can adequately express how angry I am at the 'don't do as I do, do as I say' attitude that appears to have prevailed in Downing Street."
Questions are being raised about the role of the civil service too, with former senior civil servant Sir David Normington telling Radio 4's Today programme calling a party in the middle of lockdown was "inexplicable".
"It's a terrible misjudgement, brings disrepute on the civil service. This isn't just about the responsibilities of PMs and politicians, it's also about the behaviour and responsibilities of senior civil servants. That's a very serious matter."
Labour's deputy leader Angela Rayner told BBC Breakfast if Mr Johnson had broken Covid rules and lied to the public and parliament, then his position as prime minister was now "untenable".
"The prime minister cannot break the law, lie to the British public and not be held to account for that," she added.
On Tuesday, Mr Johnson sent Paymaster General Michael Ellis to respond on his behalf to an emergency Commons question on the issue tabled by Labour.
The Conservative benches were sparsely populated, while no senior ministers appeared publicly to defend Mr Johnson.
During the session, DUP MP Jim Shannon was brought to tears when speaking of the death of his mother-in-law during the pandemic.
In December, the prime minister asked for an independent inquiry to investigate a series of allegations about events taking place in government buildings in 2020 despite coronavirus restrictions being in force.
Ms Gray's probe is investigating specific events including a leaving drink for a No 10 aide on 27 November, a Department of Education gathering on 10 December and a Christmas quiz for No 10 staff on 15 December.
It is also examining the Downing Street Christmas party on 18 December, and on Tuesday, Mr Ellis said drinks events held in the Downing Street Garden on 20 and 15 May 2020 would also be added to the inquiry.
-BBC