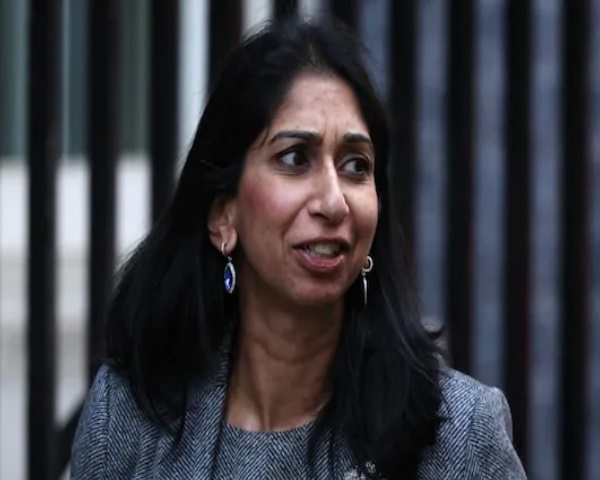 Suella Braverman has admitted to sending government documents to her personal email address six times during her first stint as home secretary.
This is on top of the security breach that led to her resignation.
She has been under pressure to explain her actions since being reappointed as home secretary by PM Rishi Sunak.
Downing Street said, "clearly there was an error of judgement and she has taken responsibility," adding Mr Sunak has "full confidence" in Ms Braverman.
Labour's shadow home secretary Yvette Cooper said Ms Braverman "has now admitted she sent government documents to her personal phone six times in 43 days – that's once in every week she was in the post".
"It shows why Rishi Sunak was so irresponsible in reappointing her to her post," Ms Cooper added.
The home secretary "has admitted breaking the rules on an industrial scale," Liberal Democrat chief whip Wendy Chamberlain said.
"If the home secretary wants to maintain even a shred of her dignity and credibility, she must resign now and apologise for her violations of the public's trust," Ms Chamberlain added.
Ms Braverman resigned on 19 October after admitting two breaches of the ministerial code by sending confidential material via a private email account.
Mr Sunak has faced questions about his judgement in reappointing her six days later – but has stood by her.
In a letter explaining her actions, Ms Braverman insisted there was no top secret or market sensitive information in the document she sent from her private email address to Conservative MP Sir John Hayes.
The document, a draft written ministerial statement on immigration plans, came to light after Ms Braverman also sent it to an employee of Tory MP Andrew Percy by mistake.
Mr Percy passed on the email to the chief whip, who is responsible for party discipline, before asking Ms Braverman for an explanation.
Ms Braverman says she then alerted the cabinet secretary – the head of the civil service – to her mistake, though sources have disputed this sequence of events to the BBC.
After meeting then prime minister Liz Truss to discuss her mistake, she resigned.
In her letter to the chair of the home affairs committee, Labour MP Dame Diana Johnson, Ms Braverman says she apologised to Mr Sunak for the breach when he reappointed her as home secretary.
"I also gave the prime minister assurances that I would not use my personal email for official business and reaffirmed my understanding of and adherence to the ministerial code."
The letter also reveals that an internal Home Office review found Ms Braverman had sent government papers to her private email six times during her first stint as home secretary.
In all these instances, Ms Braverman said she had forwarded the information to her email account to enable her to read documents on her private phone, while taking part in meetings on her official phone.
She said none of the documents were top secret and using her private email in this way was "reasonable in the circumstances and carried out in the public interest to enable me to do my job".
She insisted she had acted "in accordance" with the official guidance on ministerial email use.
Minsters' use of private email is controversial, but the High Court ruled earlier this year that it is not against the law.
SOURCE: Sam Francis Political reporter, BBC News
NB: Some images retrieved from Google, will remove at owner's request.