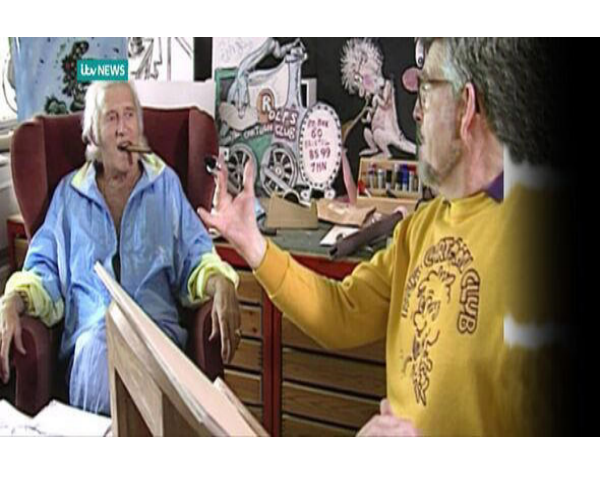 A new documentary reveals the chilling moment Rolf Harris tells fellow celebrity paedophile Sir Jimmy Savile he can leave a young girl "safely in my capable hands".
The sickening clip is part of an explosive expose into how the child sex monster hoodwinked the world during a star-studded 70-year career.
And his exchange with Sir Jimmy, Britain's worst child sex offender, will raise the question of whether either of them knew of the other's twisted predilections.
Rolf Harris: 'Hiding In Plain Sight' reveals how the renowned Australian artist and children's entertainer managed to keep his sinister depravities secret for so long.
---
The vintage TV footage shows Savile welcoming Harris onto his Saturday teatime smash-hit 1980s show, Jim'll Fix It.
Savile touches the young girl's hair and strokes her shoulder as he tells Harris she wants to paint with him.
Savile leers: "Do you think I may leave her in your charge."
Harris responds: "Safely leave her in my capable hands."
There is no suggestion the youngster was a victim of either man.
Savile, who abused hundreds of victims over his lifetime, died aged 84 in October 2011 before the scale of his offending came to light. Police believe the Leeds-born former DJ turned TV host is Britain's most prolific paedophile.
---
More than ten years on from Harris's arrest, one victim said: "He knew he could get away with it…He was given the green light to have fun with me."
The two-part ITVX series tells the story of Harris's decades-long grooming of his daughter Bindi's childhood friend from the age of 13 and reveals unseen evidence that led to his downfall.
Another alleged victim, Karen Gardner, claims that Harris assaulted her three times in the space of 35 minutes in 1978, saying: "He hugged me, and that's when it happened. And it was humiliating and degrading."
Suzi Dent, an Australian make-up artist, claims Harris sexually assaulted her in 1985. Every time she walked up to put powder on his face, she says he groped her. At the time he was also promoting an anti-child abuse campaign.
She tells viewers: "He knew I wasn't going to say anything…That would have lost me my career."
In the 1990s, he achieved chart success with his cover versions of classic rock songs. Band member Chris Brosnan, known as Bear, became his promoter but soon heard rumours about the star.
"I took it up with Rolf and…he cut me off, and he said, 'Bear, we've all made mistakes in life, and I've made some pretty big mistakes, and let's just leave it there.'"
Harris was arrested in March 2013 and convicted of 12 counts of indecent assault committed between 1968 and 1986.
He was jailed for five years and nine months. Now aged 92 and in failing health, he lives in Berkshire with his wife, Alwyn.
Executive producer Nick Hornby said: "Speaking to investigators from Operation Yewtree they felt he was the least repentant and one of the most troubling of the celebrities they encountered."
Rolf Harris: Hiding In Plain Sight airs on ITVX from May 18.
Story by Paul Jeeves – Daily Express Crime Editor • Yesterday 21:01 –