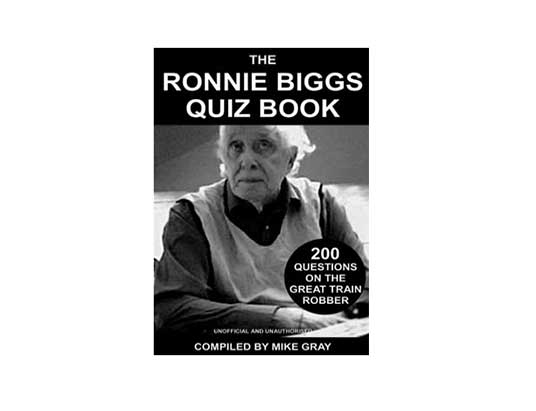 Ronnie Biggs is widely known for his part in the Great Train Robbery of 1963, his subsequent escape from prison, and notoriety as he lived as a fugitive around the globe with his family. Biggs' story has been well documented over the years but how much do you really know about the man behind the headlines? The Ronnie Biggs Quiz Book is your chance to get up on all the facts.
How old was Ronnie when he first appeared in court? On what date did Ronnie receive a 30 year sentence? Who was Ronnie's famous cellmate in Brazil? The answers to these questions and more can all be found in this fascinating new book.
The 50th anniversary of the Great Train Robbery in 2013 has renewed interest in the gang who pulled of this audacious heist, and Ronnie Biggs in particular. Packed with information, this book will tell you everything you want to know about Ronnie Biggs, his life on the run and his part in one of the most talked about crimes of all time.
About the Author: Mike Gray is the organiser of the 'Free Ronnie Biggs' campaign. He was born in 1957 in Lambeth, London. Mike first contacted Ronnie Biggs in Rio, Brazil, in 1989, and set up the Ronnie Biggs website with Michael Biggs in 1999. He was also involved in setting up 'The Biggs Experience Limited' with Ronnie, Michael, and Bruce and Nick Reynolds. Mike was a regular prison visitor to Biggs. Mike's first book 'Ronnie Biggs: The Inside Story' was published in 2009, co-written with Tel Currie, and published by Apex Publishing Ltd.