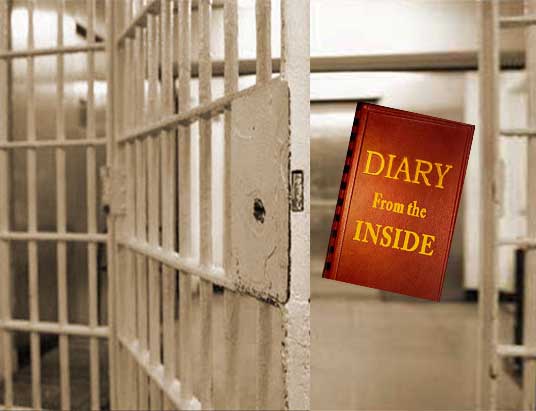 Wednesday 8 November 2017
07.18am – When I was born in 1955 to a poor but honest family in southern Italy and then emigrated to this country in 1961, it can be said that in life I stood no chance and had no chance in life. So what did I do as soon as an opportunity came up??? I took a chance and whether it paid off or not is not judged by yesterday or even today but by the future. There is one occurrence that when I took a chance I was certainly right and that is covered by the news article below.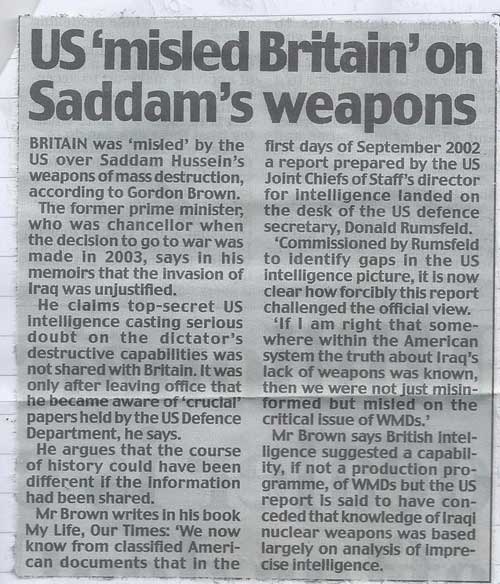 There is one matter that I beg to differ from Gordon Brown – the UK, well, Tony Blair the PM, knew that Iraq had no weapons of mass destruction. In 1990 when I was in Baghdad with the weapon inspectors from the UN and headed by Richard Butler I remember that President Saddam was looking for new 'game boys' for his grandchildren and family so when a person does not even have an electronic game imagine if he had weapons of mass destruction???? I am where I am solely because of my exposure and prosecution of Tony Blair and you know what??? I don't regret it one bit. I regret that my family is suffering and I have missed years from the lives of my children but I did the right thing and as a consequence, the chance I took was the right course of action.
Thursday 9 November 2017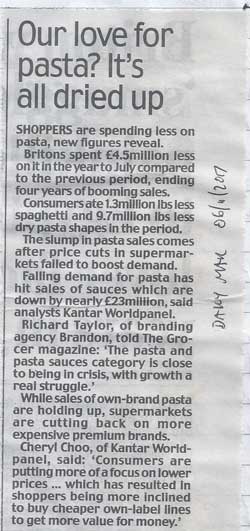 01.28pm – Yesterday I read the above news report about the love for pasta dried up – in the UK – that is because in other countries it is either the same or increasing. That led me to learn that when talking about pasta one cannot but mention Antonio Carluccio who sadly died yesterday. I did not know Antonio well but I did know him and met him a good few times in the 1980s at the Villa Dei Cesari where my (then) Rolls Royce was often to be seen at night. He was quite moody but a great laugh and turned the love of Italian food into a business and well done to him because he will be much missed. The biggest problem with Antonio was his love of smoking, and he refused to give up. He won't be forgotten because there are over 100 Caffes in his name. I do remember in 1981 when I first met him at the Villa Dei Cesari I said my name and he said: "bel nome mio padre era anche un Giovanni"  (great name my father was also a Giovanni) My eldest son lives near his house in Wandsworth and my condolences go out to his family. I do know that his only wish, that was never granted, was his desire to be a father. Well, he is the father of Italian food in England – well at least one of them – Rest in peace Antonio.
Friday 10 November 2017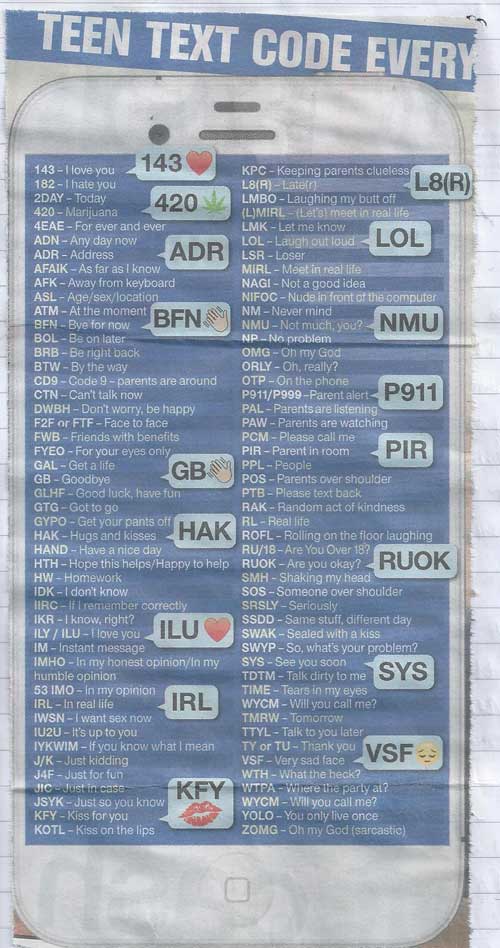 01.22pm – I simply had to publish the teen text code so all us old codgers can talk the language of our grandchildren!!! I mean for example I thought that LOL meant 'lots of love' and if my memory serves me right so did David Cameron???
01.34pm – Everyone today collects their groceries and sweets and items they have purchased. For four and a half years Friday for me is just another day because all I can order is phone credit and last weeks screwed up. Still, I refuse to be bitter. I just smile and do my job to the best of my ability. I refuse to be bitter and angry. No point in it at all, in my view after all YOLO and no way I will have a VSF because each day here is SSDD and no way RL so NM and I'm sure we will all MIRL.
Saturday 11 November 2017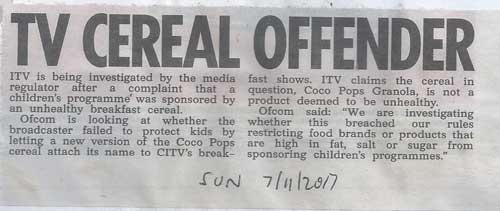 07.29am – This is what I mean by this country is well and truly screwed up. Now even a breakfast cereal is under investigation for 'restricting food brands.' The UK has lost is marbles (and at the same time give the Elgin marbles back too….. haha). I mean which poxy country puts on trial breakfast cereals? The next thing will be to put Julius Caeser on trial for war crimes and for teaching this county what civilisation means and 2000 years later they still have not learned a damn thing so I guess Caeser could be tried under the Fraud Act 2006 for abuse of position?? No, honestly, it's totally absurd and bizarre the TV cereal thing.
07.34am – What does worry me though is the news article below about the 'lost writer.' I mean how the hell does a person of 59 years of age just goes missing?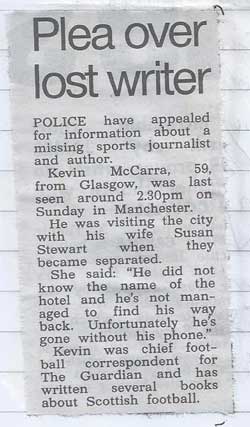 Can someone please stay on top of this story like a hawk. So many people go missing each year and without explanation. Where do they go? Does it not sort of promote the idea of 'aliens'??? As I said in the beginning of the year though:- how do we know that say cancer cells are not in reality aliens??? How do we know that bacteria is not an alien force? Still, it does not explain at all how a famous sports writer goes missing?? I hope he is found.
Sunday 12 November 2017
07.34am – Well, you can imagine how I felt when I read this article. Of course, I not being a son of a Judge (but proud that my father was an honest and humble hard worker) could not receive the benefit of the sentences these people received after a nine months trial. However, you know what? I have no hate in me! I simply don't hate! Anyone who dislikes me or who causes me a problem or injustice I just pray they change and that I extract all the love I have in me to suppress any wild emotions and you know what? It works!!! No doubt all these people will end up here and I wish them well. In fact, as I (and Engelbert) once sang "I Wish Them, Love.'
07.48am – Yesterday I stopped and just burst out laughing for two reasons: (i) I remembered the phrase 'fine words butter no parsnips' and (ii) when I spoke with Caroline I asked if my article on Catalonia history was accurate with the dates and she checked them and yes I was right on the mark. Well, you may ask what is so damn funny about that? I tell you:- it means I'm not yet totally brain dead and all the secrets that I stall have are securely locked away in my 'dura mater.'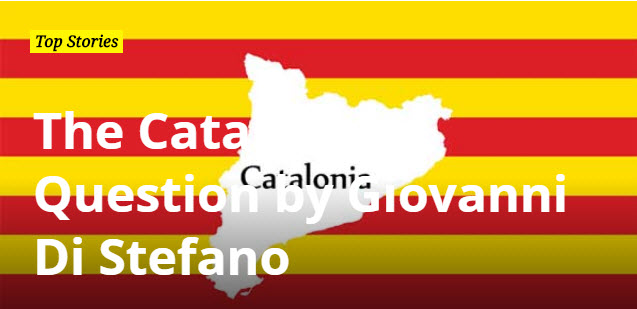 07.51am – The Italian football team needs a new Manager because this one is as much use as a hairstylist to Kojak!!! Jeez, my youngest son Gianni knew more about football when he was 8!!!!
Monday 13 November 2017
07.36am – How nice it is to see that another 'Di Stefano' (Mark) has something to say about anything and, that is so worthwhile that it gets reported in the Mail on Sunday which by the way I only receive thanks to a truly kind person called Wayne and his family.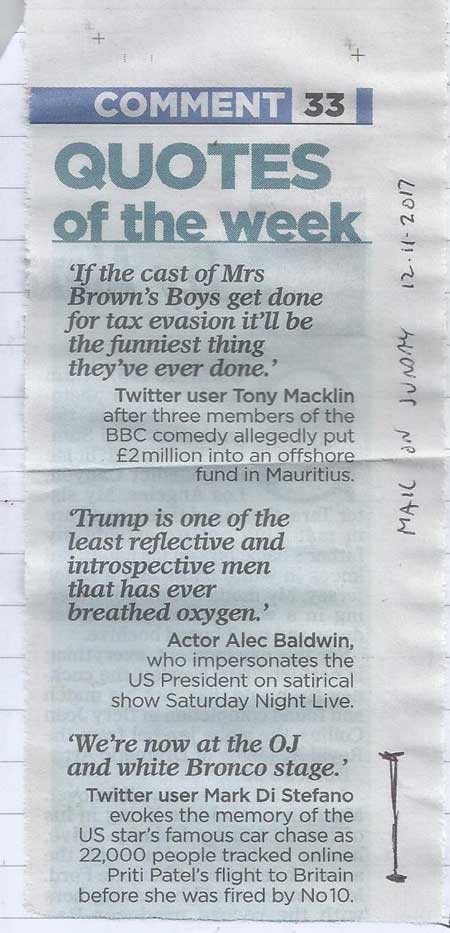 07.39pm – I was thinking last night who could replace Theresa May as Prime Minister at the next General Elections? You know what? First of all, one has to take for granted that the Conservatives win the next elections because what I see now it seems that the road ahead for this country is well and truly painted red – for Labour and Corbyn could well be the next PM.
07.59pm – Tonight Italy plays Sweden and to qualify for the Russia World Cup Italy must win 2-0. As I have said previously my youngest son, when he was 8, knew more about football than the current Italian Manager. The game is ongoing and still 0-0.
08.19pm – Well, in the next few days I await a reply form 9 Downing Street before I issue Judicial Review proceedings regarding Brexit. I also, this week, need to make a decision regarding the Ministry of Justice and myself.
Tuesday 14 November 2017
07.23am – The weather is becoming colder each day. My room is constantly between 23 °C – 25  °C so it's not so bad but outside is brrrr!!! Then again only 5 weeks to go for Xmas and it seems I will be resident here for my fifth Xmas!!!
07.26am – On a different front I'm now going to say something maybe not so politically correct and perhaps controversial which is not like me (haha)!!!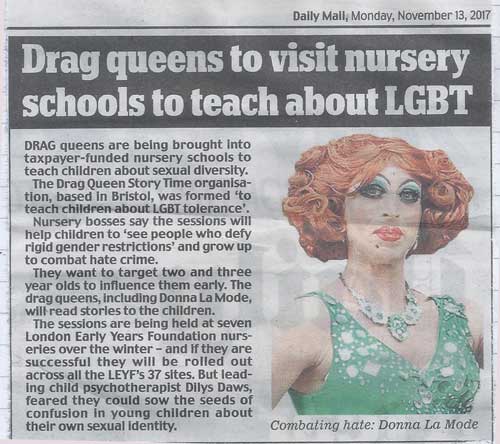 See the article above??? That is the reason why this country is out of Europe and gone totally mad!!! Madness!!! Now, when a person is of age let them decide if they want to be what the hell they feel but Jesus C. Christ to send drag queens into infant schools is absolutely unadulterated madness.  Totally bizarre and pushing children into a way of life that they perhaps would not have comprehended. It is brainwashing because the mind is bent when it is young. What you eat, see, feel between the ages of 0 – 7 is crucial to conduct later in life. If the British government want to target '2-3 year-olds' they are brainwashing children and potentially committing a criminal offence. Can someone find Dilys Daws the psychotherapist and send my congratulations for speaking out!!!!
TCIFU this country is F—– Up!!
Wednesday 15 November 2017
07.24am – Well, I woke up with a surprise that Robert Mugabe the President of Zimbabwe has been, in a way been, subject to a military coup.  News is still very scarce and the military says that they are only targeting criminal politicians and that Mugabe is safe but the first step has been taken. My next question is how all of this will affect Nick Van Hoogstraten.  So we must wait and see and wow!!! at 07.27am breaking news is that Robert Mugabe has been arrested and under house arrest and deposed. Oh well, talk about as we speak/write the news is made. At the age of 93, thought I wonder if he will actually give a hoot? I met him in Rome and to me, he appeared a very 'with it' kind of man, talkative, and what I do remember was that he did sweat a lot but very polite. At the end of the day, it was the British Government who put him in power preferring him to Joshua Nkomo. Now, will be the greatest opportunity for businessmen to get into Zimbabwe and invest so if anyone has any money invest in Zimbabwe because a lot will be on offer.
08.20pm – Well the matter is now much clearer regarding Robert Mugabe. He is basically deposed and the Military are now in charge. That is the end of the Mugabe era. On another issue, I had a lovely letter from Baroness Helena Kennedy QC from the house of Lords about Art. 50.  Further, I also clarified the situation regarding Ipswich Magistrates Court and what happened to me on 3 July 2017. Now I know why the delay in my removal from this country.
Thursday 16 November 2017

12.30pm – I have to agree with Lord Kerr on the Art. 50 situation but Helena Kennedy QC does not agree with my interpretation of Art. 50(2) but you know what? The law is about difference of opinion and interpretation. you see if we all agreed why would you need the law? At least Helena Kennedy QC was decent enough and kind enough to write to me.
12.33pm – Today I have had to cancel a visit from James Lewis because I am not well enough to walk down the unit room which is more than half a mile away from where I am. I did a silly thing – I had an ingrowing toenail and I decided I would be my own surgeon and of course the consequences you can imagine!!!! So it's my own stupid fault that I cant walk properly on my right foot. Totally stupid of me but hey even at 62 I'm still doing stupid things!!!
12.49pm – With regards to Robert Mugabe we simply do not know what the actual truth is. No one can be sure if he is deposed totally or what is going on. That aspect is peculiar to Mugabe – he hates the UK as I do but is very much anglophile (as I am now). Strange that we verge to loving what we hate – we love to hate!!!!
Friday 17 November 2017
07.24am – The time is here and Jack Frost is well and truly upon us. I look out of my window and where there was green grass is now all white. Inside my room is 24 °C so I guess no real cold problems. The only real problem is my right toe that I decided to become an ingrowing toenail surgeon so it still hurts and no I have not seen the doctor. What is the point? If Iput down to see him it will be two weeks before I get an appointment, by which time I may have cured it. I have applied an old ancient potion of a police of garlic and it hurts like hell but it hurts less than yesterday, although, it could be that the body has set a pain threshold and highered it so although the pain is the same because I am accustomed to it the pain does not feel as acute. Phew!!!
07.35am – With regard to Robert Mugabe fair play and well done to the President because he is refusing to step down voluntarily. You see in Africa you either kill a President or he is voted out of office. The African Union will never accept military coups. Mugabe says he is President and next year when his term ends he will seek re-election. If he loses he goes but he won't go now. So we have an impasse. Of course, at 93 years of age he can die of natural causes but if that happened now that truly would not be good for the military leaders. So we need to see what blows in the next few days. At the end of the day it gets dark, so we shall have to wait and see. After all, it was the UK that promoted Mugabe over Joshua Nkomo. If anyone is to blame for the past 40 years it's the choice this country made!!!!
Saturday 18 November 2017

07.47am – How do you think I feel when most of my ideas that I published from 2006 – 2013 are now appearing on screen? Two schools of thought: (i) Eff it etc, etc, and all the angry jibe that comes with rage and (ii) Wow!! etc, etc and the feeling that your ideas are well received and produced even if there is no recognition of original ideas!!! Which one is me??? You guess and let me know. If you read the Spanish Vanity Fair you will see that I traced Hitler to Spain and even found one of his graves. If Caroline can she will republish the original story of mine and the Vanity Fair link.

07.50am – On another front it's sad to see that Charles Manson will die in prison. I did my best for him then came to prison and could not complete his case. He is the only person (Bin Laden excluded) to be indicted for 'inspiring' murder. In that case, the Beatles could have been included because Manson took his lead from Helter Skelter of the Beatles. Manson himself never killed anyone and more, never actually ordered anyone to kill but he 'inspired' murder which when I last looked was nowhere to be found in the law book of penal statutes!!! When I was arrested one of his closest aides wrote to the Judge of Southward Crown Court to see if I could be revoked bail. Not all those close to Manson want him out – he is worth more to them inside than free.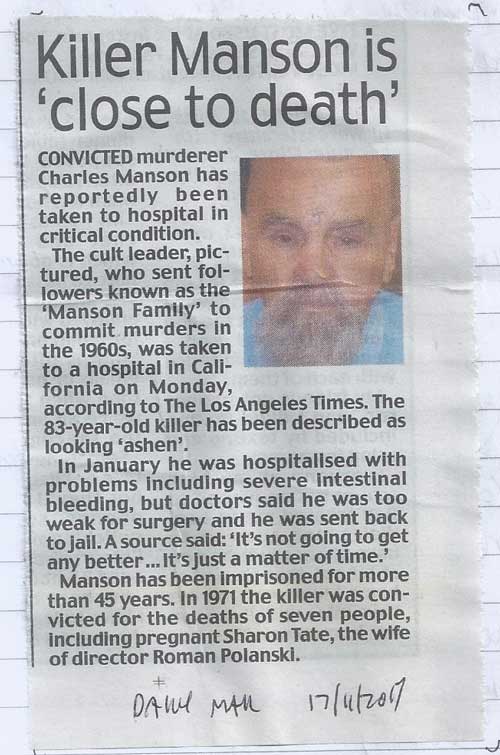 Sunday 19 November 2017
08.09am – Well, Jack Frost is well and truly here and in my room this morning, when I woke up, it was 20°C a good 5°C less than usual. Still, it could be worse – 60% of those being discharged from here go out with nowhere to live and £47.00 in their pockets. I call it 'set to fail' because that combination only leaves one avenue – crime. The chances of getting caught are high and so the cycle commences.
08.14am – Yesterday I received my first Xmas card – gosh don't that just make you sit up and really feel that Xmas is upon us and it's time for Caroline to put on our site my Xmas single with Chrissy Caine 'Have Yourself A Merry Little Xmas.'
08.17am – Thousands of miles away Robert Mugabe still refuses to resign. This Zimbabwe situation has been a long time a coming. Mugabe kept the army sweet on his side by paying the leaders. That kept the army as his enforcers. However, once the Generals could only spend money in Zimbabwe it made the package of support much less attractive. So what did SIS operatives in Zimbabwe do? Easy!!! Pay the Generals money and an undertaking of free movement to topple Mugabe. The SIS has for years been planning how to regime change – I know because I met Mugabe and it was no coincidence that I was set up to win Nick Van Hoogstraten's case because the fear was that Nick would finance Mugabe's military and most of all MiG jets. The Sunday Times discovered what was going on and nearly scuttled SIS plan by publishing the story – I wonder who the leak came from to David Leppard's story on me in the Sunday Times but what it did do was to allow me to win Nick's case (he was innocent  anyway) and allow him to continue to bankroll Mugabe until the whole coup could be put into action!!!!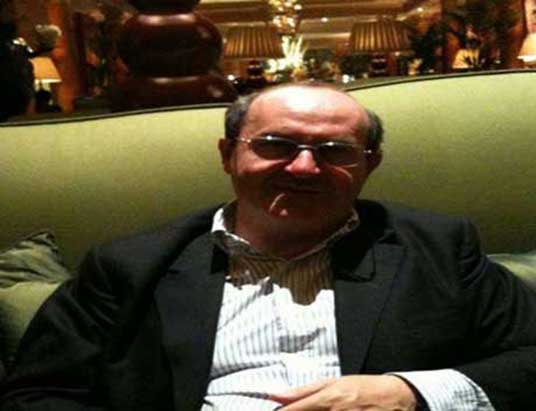 GDS
NB: Some images retrieved from Google, will remove at owner's request.