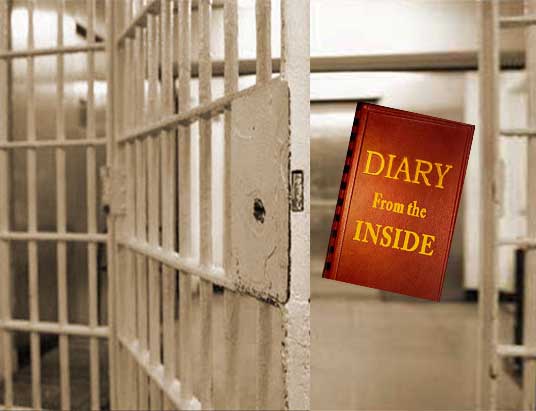 Monday 18 June 2018
07.13am – Am not at all well and it's hard to get to see the doctor. I had to call for attention last night but unfortunately nothing, no medical attention, and I hope today I can get some time to see the doctor. When I'm ill, I remember pieces of what are, useless information, but interesting. A change is as good as a rest. Now, I do remember, but please readers do check the date, that King Richard I was top dog from 1157 – 1199. But in 1192, and don't forget he was called the 'Lionheart,' – was sailing home from the Crusades when suddenly a storm in the Adriatic forced him to abandon his ship. Somehow, he was captured by Leopold V Duke of Austria whom Richard had insulted as he had tried to cross Europe with his men. For the insult, the Duke demanded a ransom of 150,000 marks (about 100,000 pounds of silver) and lo and behold in 1193 the ransom was actually paid. I suppose that this is equal to about £2 billion today, and it still is the highest ransom paid that not many even knew about or probably cared. Probably the most prolific kidnapper, again, that many do not know, is a guy called Cheung Tze-Keung aka 'The Big Spender.' He kidnapped some Hong Kong businessman's children and extracted in the region of £150 million, just for two kidnappings. In all cases, after the money was paid 'The Big Spender' let those free. Someone should write a book about him. How did it all end? Big Spender was caught in 1998 and after a trial in China, he was executed by firing squad and the legend ended.
Tuesday 19 June 2018
07.13am – A little bit of geography, history, and politics, all in one, this bright and early morning. There is a place called Pheasant Island and it's just under a 2-acre Island in the centre of the River Bidasoa, which for those who, and not proficient in geography, sits at the border between Spain's Northern 'Basque country' and France. Legally, its referred to as 'condominium' which is a territory belonging to two separate Nations. It is somewhat unique because the issue of sovereignty is resolved by being formally exchanged every six months when dignitaries from France and Spain meet on the Island to exchange official documents. At the moment members of the public are not allowed on the Island but that is now up for discussion. For you, history buffs, thank you to Mr. Norman Blakes my history teacher, that Island was wherein 1659 (I had better be right or Mr. Blakes will cane me…) the Treaty of the Pyrenees was signed by France and Spain. Why was that significant? Because it brought an end to the thirty years War. The Island has also been used as a meeting place between French and Spanish Monarchs, and, also, where prisoners were exchanged. Louis XIV met his future wife Maria Theresa of Spain there. Here is one other fact, and again, thank you to Mr. Blakes my great history teacher and Mr. McDougal at Wellingborough the History teacher there: – In 1721 Louis XV who was then aged 10 met his 'bride to be.' 3-year-old Mariana Victoria of Spain (1718-1781) although the two never married!!!! Why is that about shared sovereignty interesting – why don't Spain and the UK think about that for Gibraltar post-Brexit?????
Wednesday 20 June 2018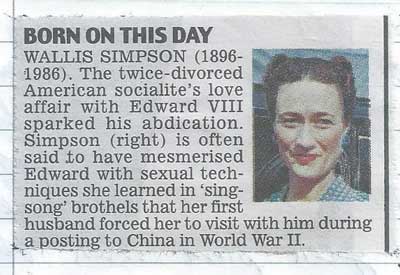 07.15am – I had to have a chuckle when I saw that yesterday it was Wallis Simpsons birthday – gosh, she would be 122 years of age and probably still perfecting her Cleopatra's Grip. Just one question: – the fact that Wallis was an expert in Cleopatra's Grip was actually in an MI5 report that was written for the 'eyes only' of the then King! One question: – how the eff did the person who wrote the report know??? That is not to say Wallis was not, but how the hell did MI5 know she was an expert in Cleopatra's Grip method? I bet that 99% of women, and men for that matter, don't even know what the hell Cleopatra's Grip is? And another question: – where is the evidence that Cleopatra practiced the 'Grip,' whatever the hell that was at the time? The technique was named after Cleopatra because she seduced Caesar, and Anthony, and probably many others, but is there any admissible evidence? Why can it not be that King Edward VIII was just actually in love with Wallis? Why does there have to be an ulterior motive? I repeat: – how did MI5 know that Wallis Simpson practiced 'Cleopatras Grip?' Did they question her husbands? Did they question her lovers? Sorry, but to me, this seems like the then royal PR machine in overdrive, although Wallis being a practitioner of Cleopatra's Grip leaves an area of mystique! Oh Well…Good morning all!!!
Thursday 21 June 2018
(written Wednesday 20/06/2018) Over the years I have had the honour, privilege, and pleasure, to meet many famous people from all fields of life. Nelson Mandela (God rest his soul) was but one. I could not understand why he elected to remain in prison 26 years plus when all he had to do was say: – "I renounce violence as a means of achieving political objectives for myself and the ANC." What he did say to me was, that the years in prison meant zero to him and after a while was not even punishment. What did hurt, was being a single minute away from his children and each minute was like a hundred years? Well, I have not spent 26 years in jail, but I do agree with Mandela that the only real punishment for me, although, what actually I have done eff knows, is not being able to be part of my children's lives for the last 5 years and 3 months. All the emotional changes my children have gone through and will go through, I can do eff all. Now, for that, someone must answer. I won't allow vengeance to occupy my mind because I have a job to do and an objective to attain, which I will. But I won't forget at all what this country has done to me denying me what was by right, even in prison, mine. So, I tell my children this: – you are not alone and soon I will be with you and in the meantime follow your hearts, soul, and mind and all will be OK.
Friday 22 June 2018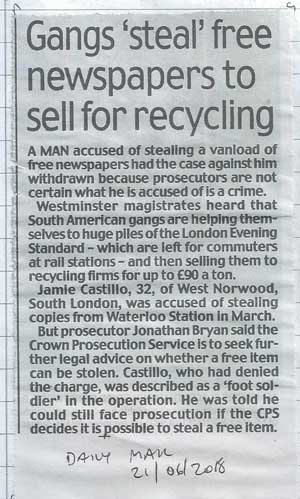 07.12am – When I saw the above news article, I remembered my fourth son Milan in a similar situation when he was on his way back from Gordonstoun many years ago. He took a couple of whiskey small bottles that are given out free on BA as a gift to me. The thought was great but it got him spoken to by the police who hinted at 'theft.' When I got the phone call I reminded the police of S.1 of the Theft Act 1968. How the hell can you steal what is actually free? Drinks were given away without fee, so, my boy did not want BA to break the law by having a drink opened and served to him. So, he took two miniatures as a gift to me. The police quite rightly dropped the whole matter but the school did not and rusticated him which was terribly unfair. The boy had good intentions and has a good heart, and still today he is the same. So, when I saw this story I totally agree with there being no offence although under the Theft Act 1968 if the papers were a gift then it is actionable, what is given free creates no offence in law. I'm sure the CPS will ultimately agree but I would not be surprised if the law were not amended eventually.
Saturday 23 June 2018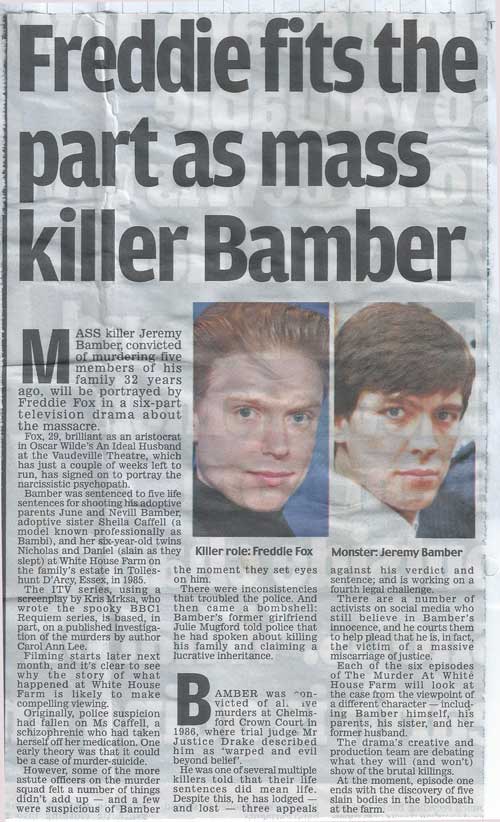 07.41am – I saw the announcement that the Jeremy Bamber story will be televised soon. I represented Jeremy for some years and know he is truly totally innocent both de jure and de factor. He also passed a lie detector test that I arranged not on one murder but on all five murders. I hope that the TV series accentuates that he could not be guilty. The practical evidence is clear, a photo taken of Sheila Caffell bleeding from the neck was taken at about 09.00am(is) and blood flow lasts no longer than two hours. Bamber was with the police since 03.30am – could not be him!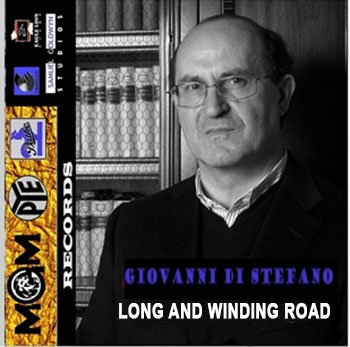 NB: Some images retrieved from Google, will remove at owner's request.