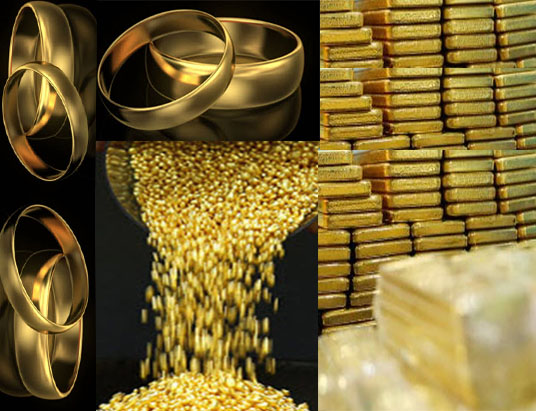 The Apostle, St. John, wrote:
"In the beginning was the Word, and the Word was with God, and the Word was God."
For me, the beginning was when I was eight years of age, in August 1963, when my parents took me back to Italy on holiday from England. As 'aliens' registered with the Home Office, our family had been in England since 1961, and this was to be our first trip back to Italy.
I spent many a happy day with my maternal grandmother and, for a boy of my size, shyness, and inquisitorial nature, my grandmother used to take me to the cemetery in Petrella Tifernina, a village in what was then the poorest region of Italy. We would start at about five in the afternoon, walk the kilometer and a half, and then, 'visit' all our relatives.
This particular afternoon we entered the small chapel that faced the entrance. There were small tombstones on the walls and people would light a candle, or two, to past relatives no longer present. I noticed that my grandmother would always go to the right corner, where she would light a candle for those that gave their lives for 'La Patria' namely the country. I remember, also, that both my grandparents said that their wedding rings were also given 'Lla Patria' again, to their country.
I had no clue what they meant but when grandmother put a match to those candles in this small village, in Southern Italy, it was with deep affection, care, and appreciation.
A few days later I went to the cemetery with my uncle, my mothers' brother, and, I asked him who those people were who grandmother would dedicate a candle or two. He told me that they had "gone to the Russian Front and never returned."
Again, I had no clue what he was talking about.
What was with this donating of wedding rings to the country?
What was with going to Russia and not returning?
What was all this about?
I never really gave the events of 1963 much thought, upon returning to England. As aliens registered in England our family, as did other families in the same position, had to sign at a police station regularly. On one occasion in December 1963, the coldest year of my life, waiting at the Wellingborough Police Station, to sign a register, I noticed that my father did not have a wedding ring whereas, my mother did. I asked my mother, "Did dad also have to give his wedding ring to the country," to which my mother replied, that only the previous generation under the German Occupation did that and, to be quiet and, stop asking questions.
In 1973 when I was eighteen, I had already been driving in England for a year. I passed my driving test at the age of 17 and was issued with the small red driving license. My father bought me an Audi 100LS registration BBD 139K and he decided that in August we would go to Italy by car.
The journey was terrific through France, Switzerland, and finally from Chiasso to Campobasso. We arrived in the village after two nights and we stayed for four weeks.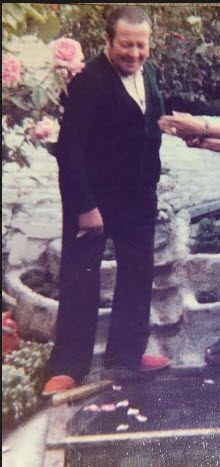 My favourite uncle, from my mothers' side, was the brother of my grandmother called Nicola Di Lisio. He was married to a wonderful lady from Campobasso. Uncle Nicola loved both me and my parents, because my grandmother, his sister, had basically raised him when their mother died and my great grandfather remarried.
When I was between twelve and sixteen, he used to let me drive his car on the 'bernina' motorway linking Petrella Tifernina to Termoli.
During the War, I had always been told that he was a prisoner of War held by the Germans in a concentration camp in Poland. He always used to tease his wife that he had a Polish girlfriend and auntie would always bite. He was taken by the Germans in 1942 and did not come back until 1946 weighing 7 stones.
I could never quite understand why the Germans would want to take prisoner citizens of a country that was their ally. I understand this much later thanks to Mr. McDougall, and Mr. Nick Wills, my history teachers.
Uncle Nicola asked my parents whether he could come to England to stay because he said the English had liberated him and further could we go by car and deviate via Poland, so, he could see his concentration camp? My parents never hesitated and of course, in the first week in September 1973, myself, my mother, father, and Uncle Nicola, started on our memorable journey to retrace my Uncle's tortuous past.
On the way, I asked Uncle Nicola what it was like, and he told me stories that shook me solid. One such story was, that the Germans would extract teeth from prisoners that had gold or silver fillings and that the teeth were then smashed, leaving the gold or silver that was melted and turned into tradable gold or silver bars.
Going through Germany my Uncle never said much and when we were about to cross to Poland, he asked me to stop and to please forgive him but wanted to drive straight to England. He never wanted to see the concentration camp. It was simply too much, too late, for him.
In England, he was a shining light. He paid for everything without question or thought. When it was time for him to go back, he took the train and arrived back to Italy and told my grandmother, his sister, he was finally at peace with his soul. His time in a concentration camp must have been truly tough.
I carried Uncle Nicola's story all my life. In the late 1990's I explored the possibilities of suing Germany, for what they had done to him, and a few years later in post-year 2000 I wanted him as part of the settlement that Germany was offering to all those they had detained in the War.
Uncle Nicola had three children, and neither wanted any part of anything to do with their father's history except for Giovanni Di Lisio who is the facsimile to his father.
This whole story of the Germans extracting teeth from prisoners dead or alive and taking the gold fillings has remained in my mind.
Notwithstanding, my personal circumstances in August 2015 whilst at HMP Swaleside, I remembered some files I had seen in Iraq about gold bars recovered by England after the War from Germany. Those documents had been supplied by the French Foreign Ministry who were helpful to me when I was defending the Iraqi Regime from 2004 – 2012.
On the 13 November 2015 I wrote to the Bank of England in the following text:
'Documents obtained from the US Embassy in France shows that the UK recovered 8,307 gold bars from a salt mine in Germany, which represents melted down gold teeth filings. Please can you confirm how many gold bars are held still to date in the Bank Vaults of this recovery.'
The Bank of England pretended not to receive my letter after all, who cares about a letter from a disgraced person in prison. On the 9 January 2016 I served the Bank of England with a Freedom of Information Act 2000 and complained to the Information Commissioners' Office. The ICO replied to me on the 13 January 2016, and it came as no surprise that on the 15 January 2016 the Bank of England wrote to me under reference V161786 saying:
'…unfortunately, we can find no record of receiving your letter dated 13 November 2015 and 17 December 2015.'
The ICO continued to press the Bank of England and on the 29 January 2016, I received a reply.
I was astounded to learn that:
'…the Bank of England does not hold any gold assets that were recovered from Nazi Germany by the Tripartite Gold Commission."
It was time to press for more information. What I learned about how the United States of America Central Intelligence Agency works is that their information is as close to accurate as can be. How the CIA use information is another matter but for collecting information, they are twice as good as the SIS or the SVR. If the US Embassy in France stated that the British had recovered 8,307 gold bars from a salt mine, then that information was correct. If the Bank of England stated that they held nothing then it was time to find out what happened to the gold.
Little did I know that the journey would be surreal, and would lead to potentially the biggest crime ever committed by those who were victorious in a pointless War.
My journey started when I was eight learning that my grandparents surrendered their wedding rings for the good of Italy. What happened to that gold astounded even me.
There is an old saying that goes something like this:
"Give a man a gun and he will rob a bank
Give a man a bank and he will rob everyone"
After some extensive legal argument which was supported by the Information Commissioner, the Bank of England were forced to now take a different stance. By this time the Bank of England had understood who I was and what kind of investigative possibilities I had, even in my current location.
On the 18 March 2016, I received a letter from the Bank of England accepting reluctantly that I had the right to be supplied certain information and finally:
'I can confirm that the Bank holds a letter from, the Tripartite Commission for the Restitution of Monetary Gold dated, 4 July 1958, authorising a transaction by the Bank's Bullion Office to Banca D'Italia. The Bank also holds a record made by the Bank's Bullion Office dated, 7 July 1958, confirming the transaction of 409,920,847 ounces of gold took place.'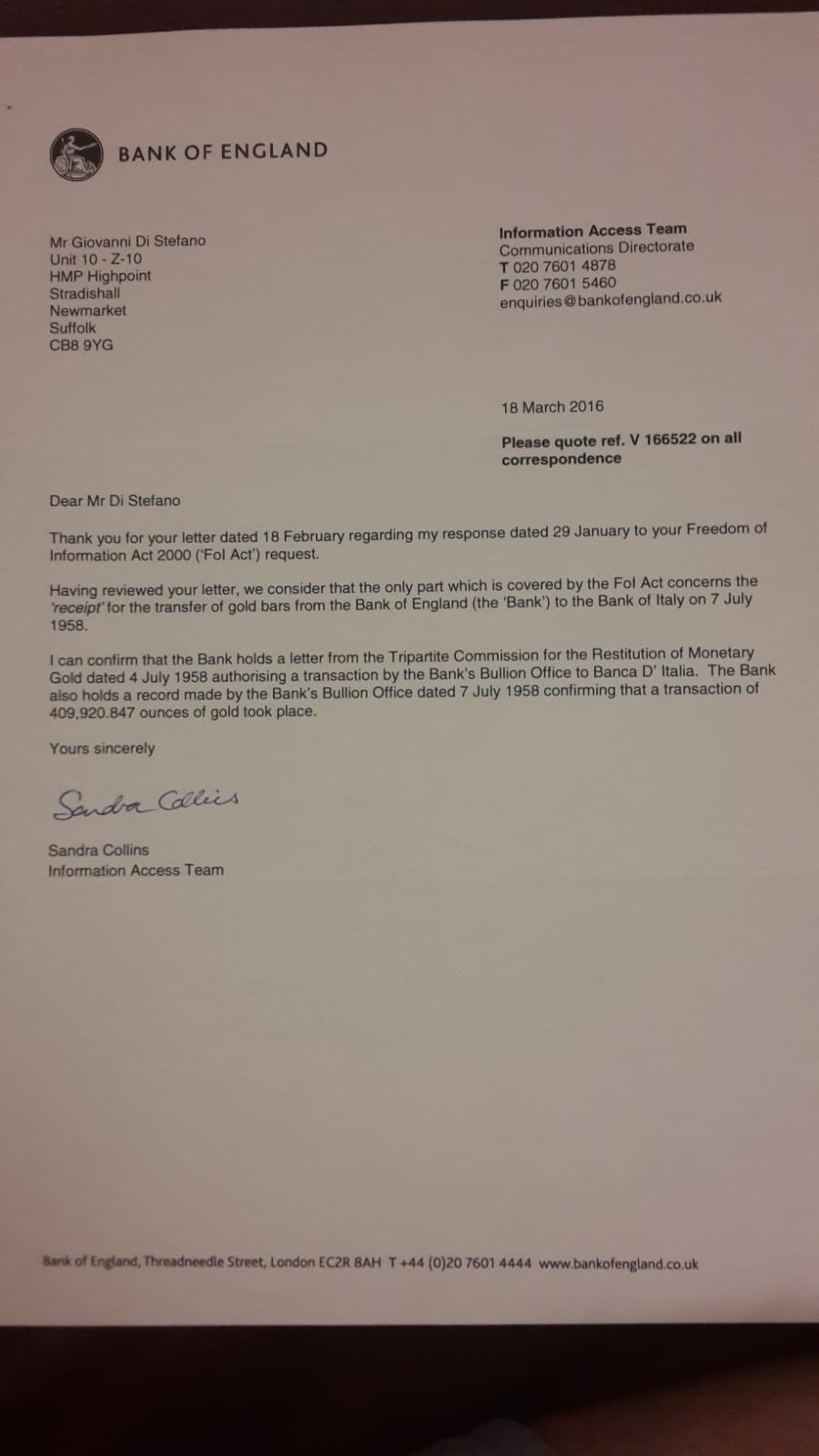 I, of course, requested copies of those documents that had been mentioned from the Bank of England. Of course, I had already obtained them from friends, within IS, who was disgruntled with how I was treated.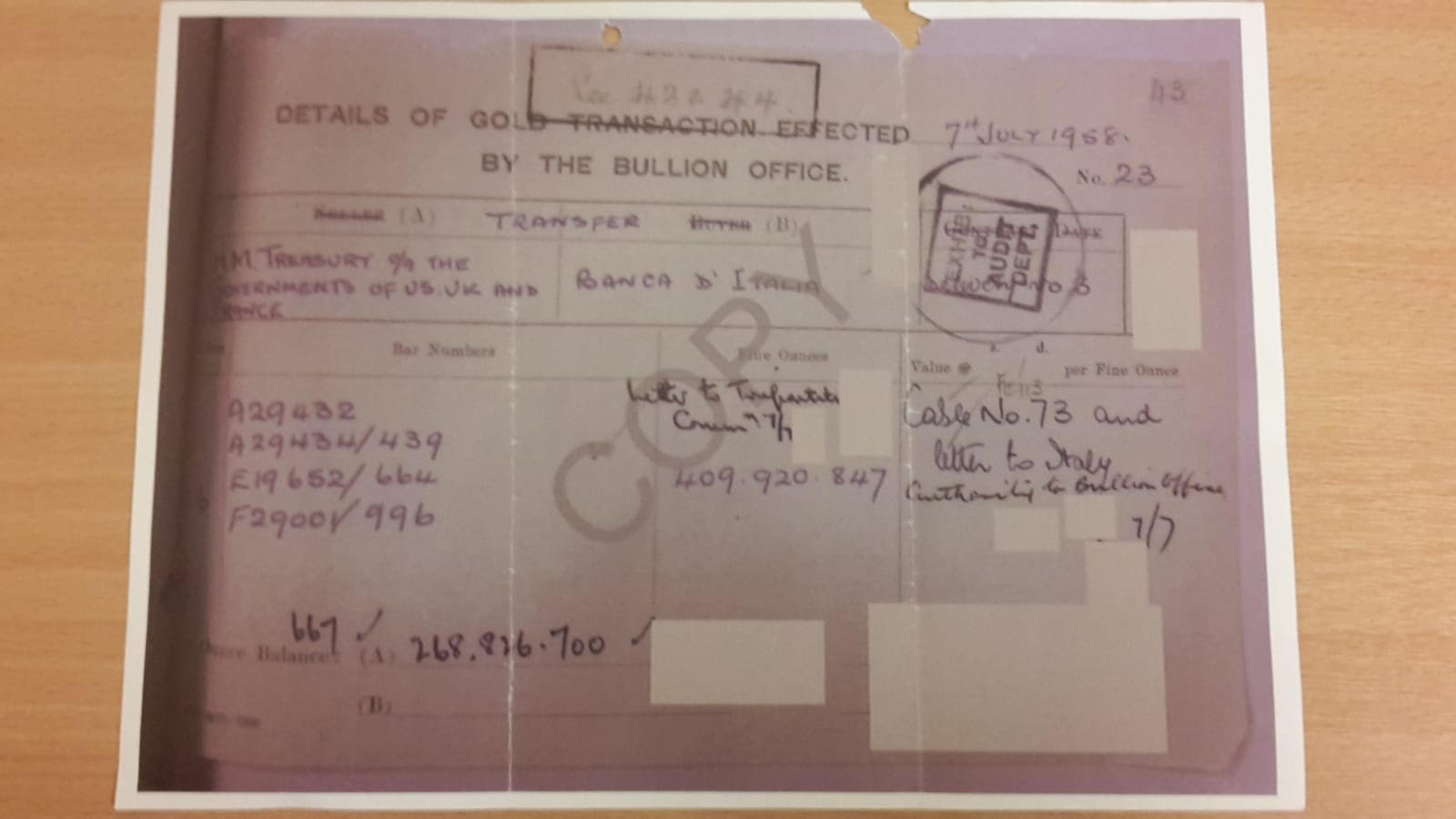 On the 16 November 2016, The Bank of England wrote to me what can only be referred to as pure mendacity:
'I can confirm that the Bank of England does not hold the information with the scope of your request.'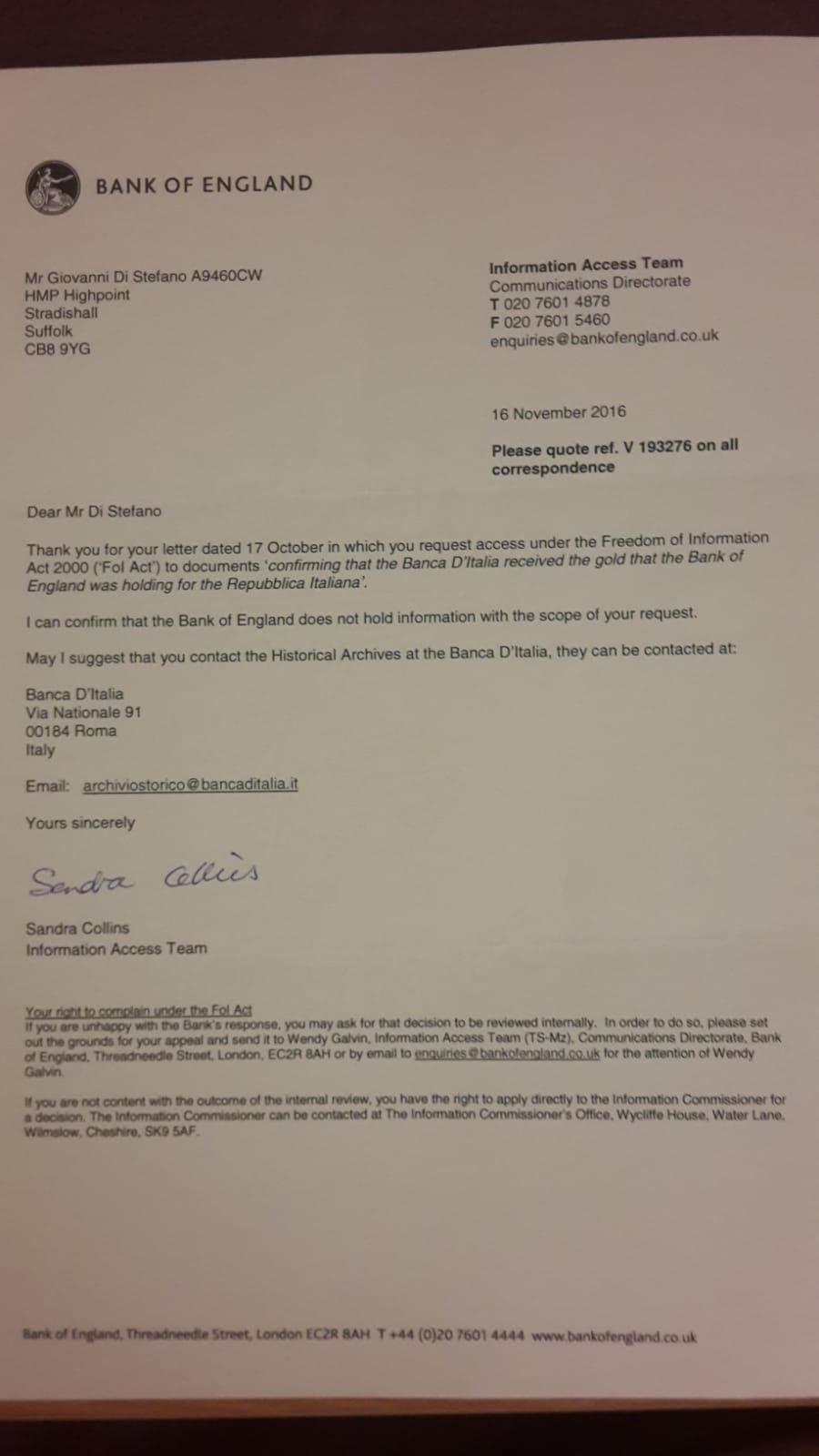 I could not comprehend why such obstructive conduct from the Bank of England, as an Italian citizen, and Segretario Politico of Partito Nazionale Italiano, I was entitled to know what happened to the gold that belonged to Italy.
In order to obtain the two documents, that the Bank of England referred to but then stated they did not have, there was some obstruction also from the Prison Service.
By some strange coincidence the Bank of England mistakenly sent me the documents by letter dated 29 September 2016 simply stating:
'Please, find enclosed copies of the records detailed in my letter of 18 March 2016 as requested.'
I had obtained them on the 16 September 2016 and as they had arrived via the post they were seized and suppressed. I was forced at filing a Complaint Log: HPC16/2860 to which the Deputy Governor as 'Head of Security and Intel' immediately authorized me to receive and with the following remark:
'Apologies for the inconvenience.'
Examining the historical documents and other Bank Logs of all the transaction supposedly made by the Bank of England I found that although the Bank of England mentioned the transaction of 409,920.847 fine ounces of Gold in July 1958 it made no reference to the supposed:
'28 July 1948 Transfer to the Bank of Italy of 269,710.784 oz in coin' (but see 31 August)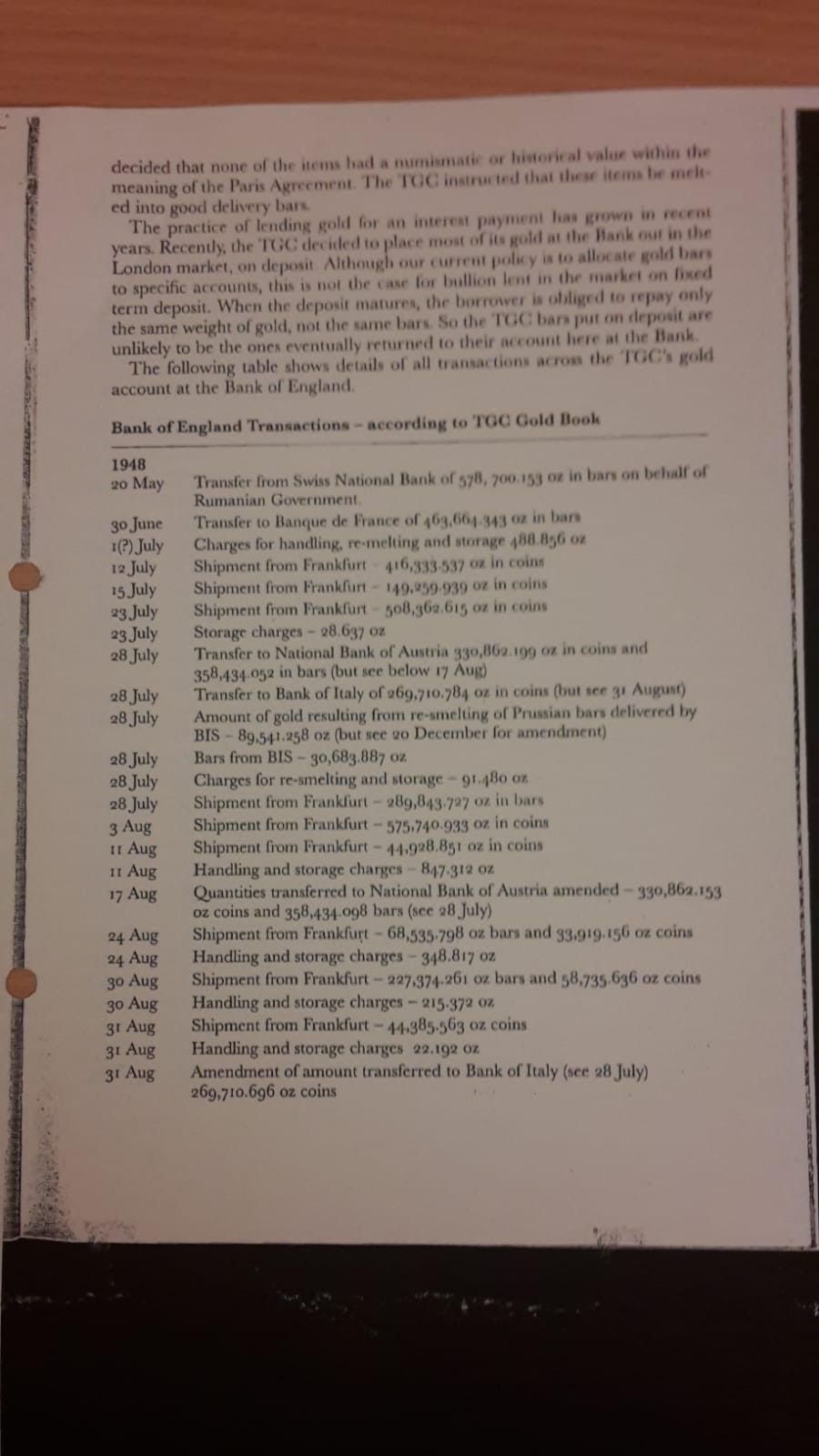 The entry confirmed:
'31 August 1948 Amendment of the amount transferred to Bank of Italy (see 28 July) 269,710.696 oz coins'
On 17 November 2016, I started to press the Bank of England for further more detailed information. I did so by letter.
My letter made the position crystal clear:
'In light of the possibilities that the Bank of England did not actually 'hand over' the Gold to the Republic of Italy in order to defray those allegations it is frankly impossible that the Bank of England does not have a receipt.'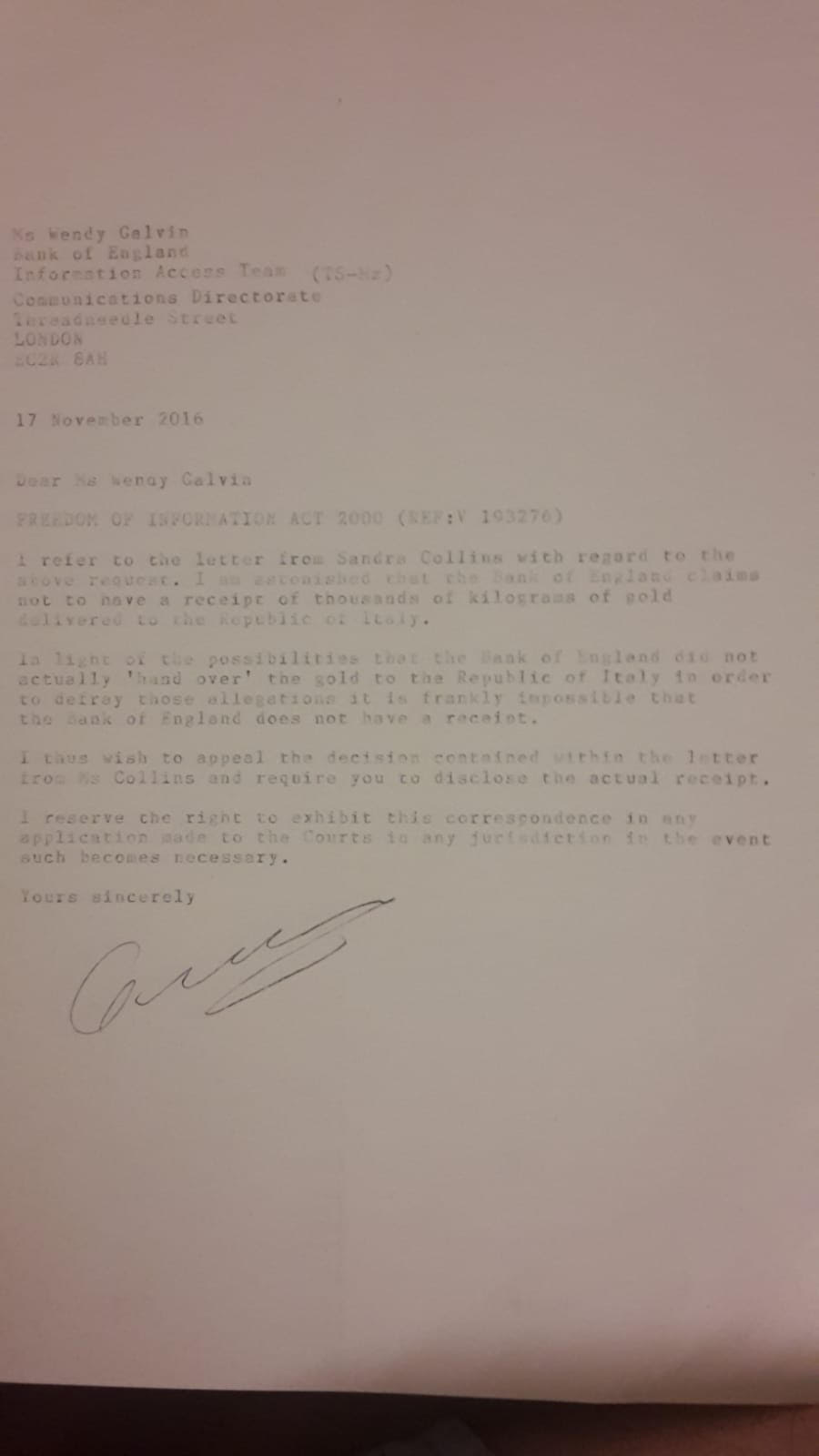 I was astounded to receive a letter signed by the Secretary of the Bank of England, an official parchment paper dated 8 December 2016 stating:
'No receipt was required or given. As the documents indicate, a cable was sent to the Banca d'Italia notifying them of the credit to their Gold account. We no longer hold a copy of that cable.'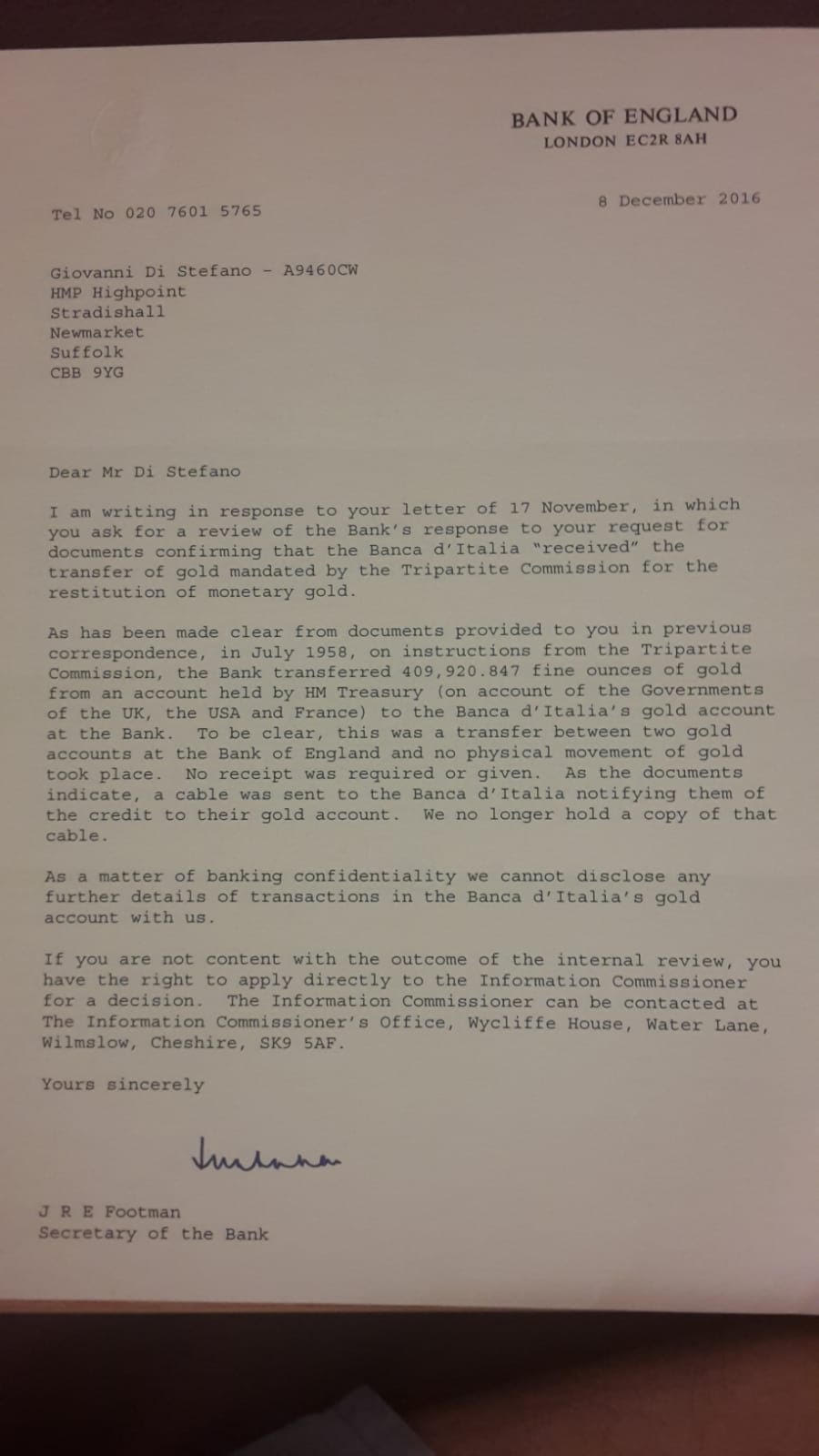 It is quite understandable that drug dealers do not require or receive receipts, and those acquiring stolen property neither require or offer official receipts. Ladies of dubious moral aptitude rarely, if ever, offer official receipts. However, transactions involving gold without question require receipts and Central Banks hold documents hundreds of years.
It was interesting to note that at no time did the Bank of England mention or refer to the 28 July 1958 'Transfer' to the Bank of Italy of 269,710.784 oz in coins. One wonders what happened to that transaction? Did it actually take place what has happened to the 409,920.847 'fine' ounces?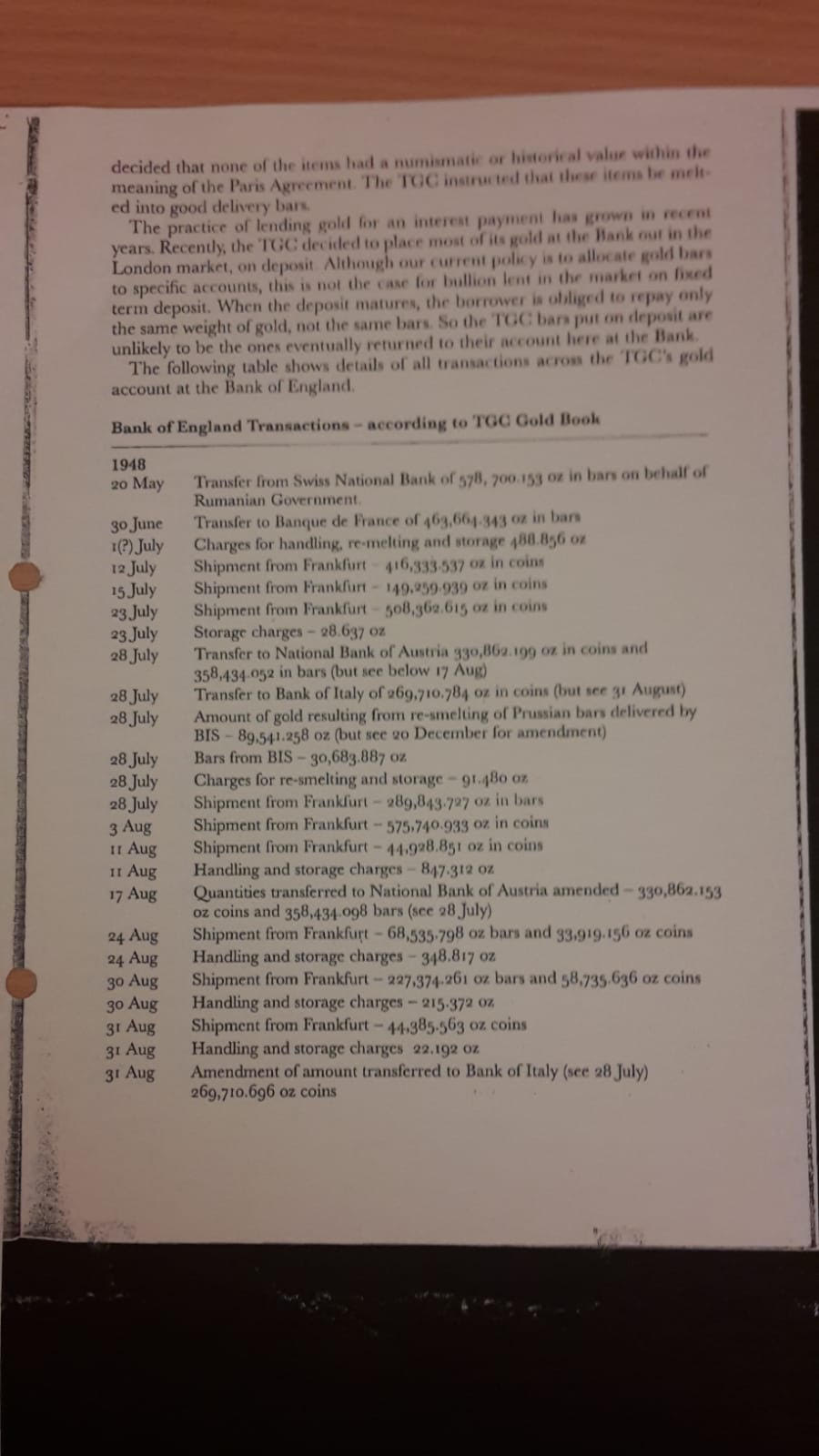 The surprising outcome was that an inquiry to the Banca d'Italia came back with the resolute answer that can be summarized in a few short words:
'What are you talking about? What Gold? What transactions in 1948 and 1958?'
It came to my attention that if there remained any doubts about the restoration of gold to Italy, then what about other countries?
Looking at the list it is easy to notice that on the 23 September 1948 there was a:
'Transfer to National Bank of Federative and Popular Republic of Yugoslavia – 269,841.059 oz coins and 6,919.692 oz bars.'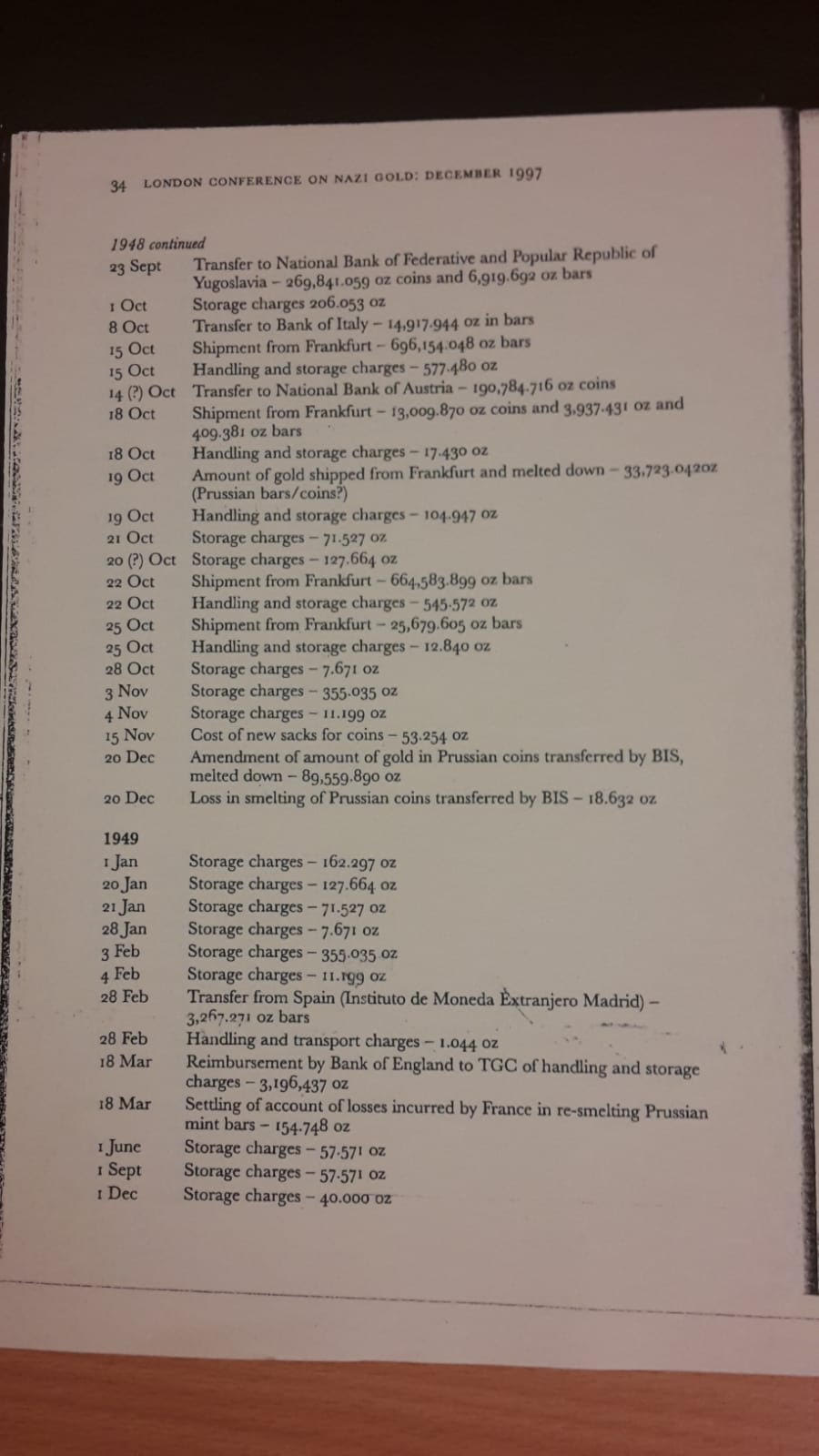 Again, on the 4 January 1951:
'Transfer to National Bank of the Federative and Popular Republic of Yugoslavia – 1,629.648 oz bars.'
In 1993 I was a very good friend of Dragoslav Avramovic who was the Governor of the National Bank of Yugoslavia. I remember he had a serious health problem, and during one of our morning discussions, he asked me to buy for the Bank, on my next trip abroad, the Bankers Almanac. He then also said that he was aware that England owed Yugoslavia a 'lot of gold.' I thought nothing of it but asked him in my particular manner "On what grounds?" He replied: "it was gold the Germans had stolen and been recovered, and Tito had been trying to obtain repayment, as well as other subsequent Presidents."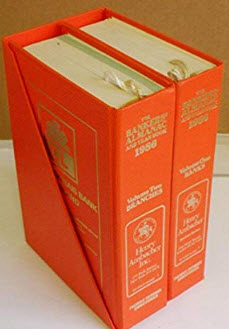 The log also states that on the 29 October 1996:
'Transfer to Albania – 31,168.508 oz bars and 18,636.069 oz coins.'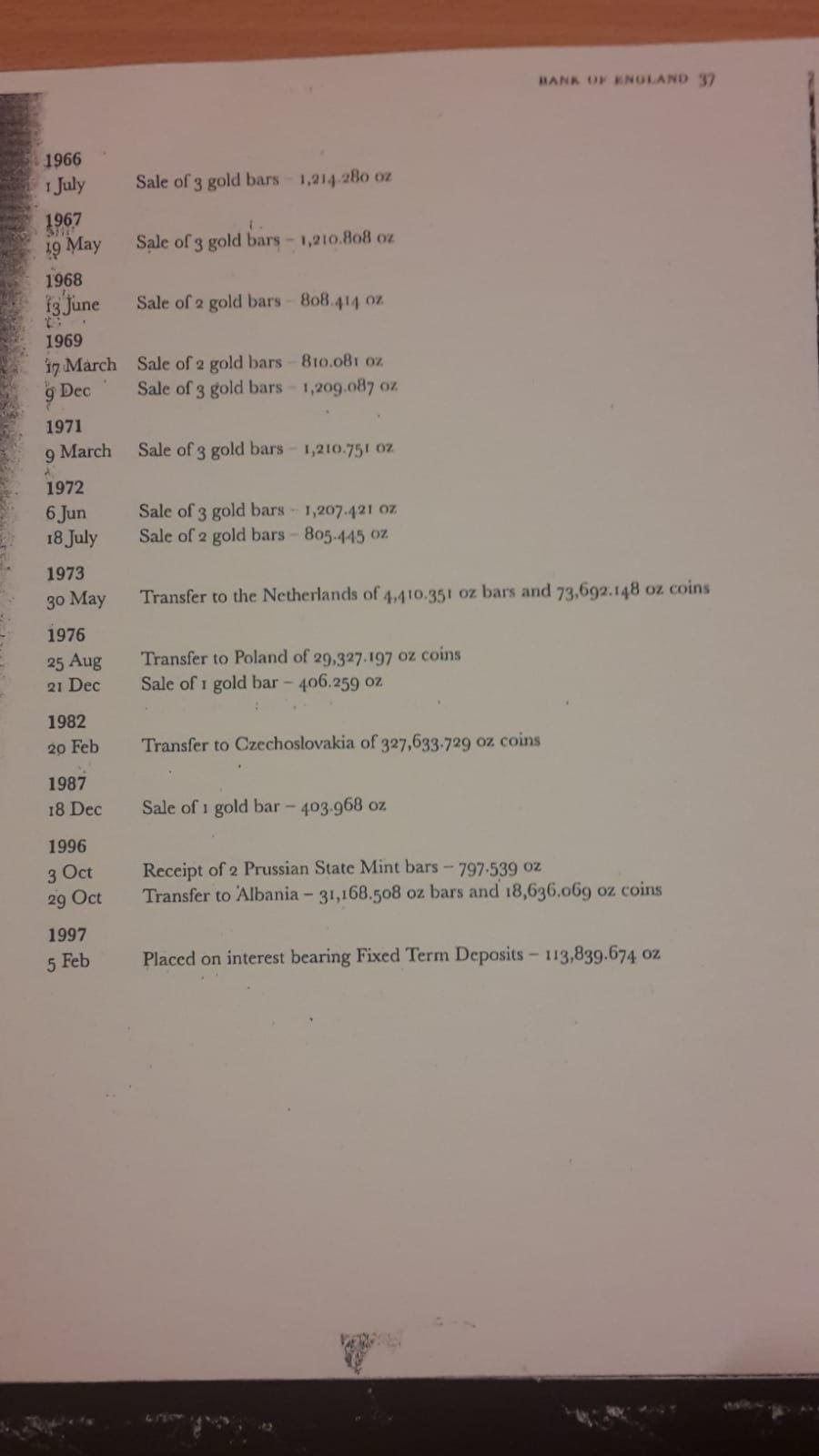 Making enquires with the Albanian Government there is some loose reference to an agreement and accord, but, that, without doubt, Albania certainly never received any physical gold at any time.
There being a propensity for mendacity, and billions being at stake why would the British Government care a feather or fig about my grandparents surrendering their wedding rings for Italy?
The truth of the matter is that there is a serious prima facia case that the United Kingdom has in fact misappropriated at best, stolen, at worst, gold, that was recovered from the Nazi German looting in the Second World War.
It is hard to imagine which is worse? The thief, or the ones that recover monies from thieves only to steal it themselves?
It is a question of morality and morals are a million miles apart from money.
The United Kingdom owes a considerable debt in gold to Italy, to what was Yugoslavia. and to Albania. and invariable to others who have the time, and inclination, to inquire.
My journey started when I was eight, and it was all about two rings from my grandparents who gave them for what they thought was the good of Italy. Instead, those two gold rings ended in the hands of the British Government failing to return them back to Italy and weaving a web of deceit.
In my letter to the Bank of England dated 17 November 2016 the position was made crystal clear:
'I reserve the right to exhibit this correspondence in any application made to the Courts in any jurisdiction in the event such becomes necessary.'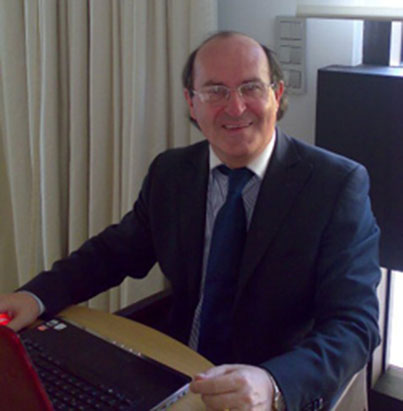 GDS
NB: Some images retrieved from Google, will remove at owner's request.