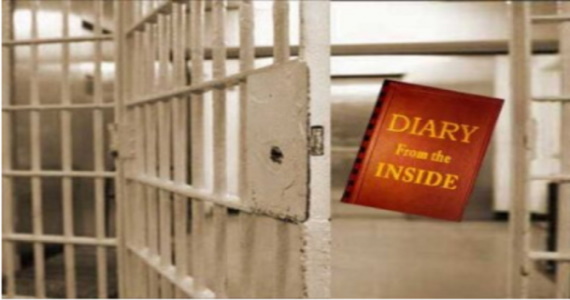 Saturday 1 January 2022.
Happy New Year to All……………….
Sunday 2 January 2022
10:10 – Will this year bring me the justice that I deserve.
Monday 3 January 2022
Another boring Monday, but every day is the same….
Tuesday 4 January 2022
Thank goodness that's over with as can go back to work now….
Wednesday 5 January 2022.
09:12 – I am ill.
Thursday 6 of January 2022.
01:.08 – What is the point in trying to obtain fairness and justice in the British courts when (a) They are intellectually dishonest and (b) they have more to lose if they apply the rule of law.
Friday 7 of January 2022.
09:10 – Our instructor tested positive for COVID so all five of us who work in hospitality must isolate for God knows how many days. They say it's not punishment, but it sure as hell feels like it.
18:55 – This whole situation is very much too coincidental for my liking, but I must just get on with it as best I can. Tonight, tested negative again. Test number LRX 60126856. Yesterday was LRX. 59641261. Day before LRX 60123732.
Saturday, 8 January 2022.
09:30 – Yesterday. My food intake was: one slice of bread with two spoons of tuna on it, and for dinner, a piece of fish 5 inches long by 1 inch wide. That is it! That is how things have become under isolation and or lockdown.
Sunday 9 of January 2022.
16:00 – This whole place is now in total lockdown. Times are grim and hard. Can you imagine just how hard it must be for those who don't read or understand English? This is a foreign national detention centre. So only about 10% really speak and understand English – That means only 40 out of a roll of 460, so over 400 people do not understand English, locked in their rooms for 23 hours per day. For me – Well, the only difference is that I speak and write English, but it's equally hard.
Monday 10 January 2022.
16:12 – Nothing is going right. I am locked up in isolation for sweet F— All. I don't have COVID but have been around an instructor who had tested positive. He isolates for five days, and me 10 days. Very fair, is it not? Can't get any listing in the High Court. Can't get any legal visit? Can't get new website going – keeps getting put off, by days after days since August 2021 – I'm sure someone has put a curse on it. What is the point of it all?
Tuesday 11 January 2022.
12:02 – One more week of this hell, but I can do it. You would be surprised just how much suffering the human body and mind can take. The cruelty of humankind to humankind is far greater than in the animal Kingdom.
Wednesday 12 of January 2022.
16:07 – I think it's about time that the truth about the Boris Johnson cigar case, "theft" came to light. It all happened in 2008, some 14 years ago, but it happened, (click on photo below to read article). It's quite tough doing 10 days of wholly absurd and unnecessary isolation, but those who hold, the keys hold the power and all too often the power is misused.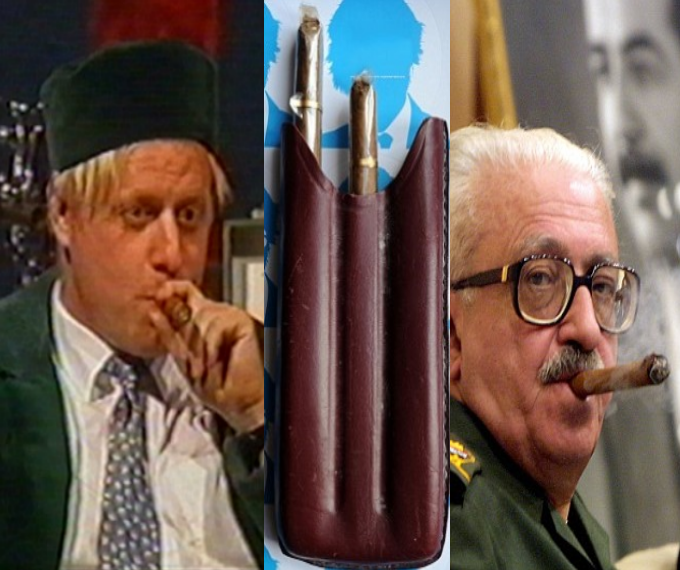 Thursday 13 of January 2022.
16:20 – As with everything in my life, many ups and downs, with recently more downs than up. I hope by next week we will. Have more of a sporting chance in the law courts, because a retired High Court Judge has informed me, that the message to all Judges of the High Court was not to give me anything in any application, that constitutes evasion of duty, and stonewalling.
Friday 14 January 2022.
17:09 – Trying to do my best, keeping it all together, but the problem is that no one outside really understands how hard I am having it, and I guess in a way maybe it's that is how it should be, but I'm having serious issues. I only have three more days of isolation, but after that, who knows? This place is deemed an "outbreak site," so, things won't be much different, even after I am out of isolation.
Saturday, 15 January 2022.
19:12 – Today I wrote the article on Prince Andrew, and the "copy" photo that has done the rounds, but which is only a so-called copy, and cannot be used in evidence. If that is the basis of the civil action, and that photo cannot be used, it's a question of who to believe. I know who I believe, but let's see how things now pan out (Click on photo to read article)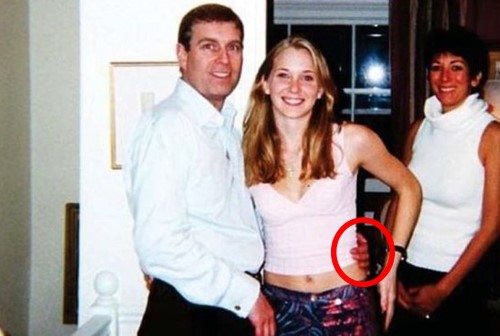 Sunday 16 January 2022
21.10 – Tomorrow everyone will have a lateral flow test. Then I guess they will know exactly "wagowon." Tonight, I watched the documentary on the Beverly Hilton, where I stayed a few months before I got a house. Brought back some nice memories, but life moves on, and on, and on, and on, until it stops.
Monday 17 January 2022
Mea Dea Lux Meae.
Tuesday 18 of January 2022.
17:21 -Well, today I came out of isolation after a very long 10 days because I had been near "someone" who tested positive for COVID. I have completed the responses to the judicial reviews and have or may have found another Avenue. Having difficulty getting hold of Simon Jowett, but he is a very busy person.
Wednesday 19 January 2022.
19.38 – A hell of a lot of work done today, including a unique application. Under S.152 of the Customs and Excise Management Act, 1979 – OK, old legislation, but as valid today as it was when it was written.
Thursday 20 January 2022.
20:35 – You know, time go so very quickly after Christmas ends, and look, we are now nearly at the end of January. The 10 days isolation have not helped, but that is now over, so let's look forward.
Friday, 21 January 2022.
21:06 – It would appear that it is not a crime to have a cold heart, and zero compassion, for one's fellow human being!!! Today, the singer Meat Loaf died aged 75. I never really liked his music, but he was a brilliant performer and a legend for his January of music. My condolences go to his family.
Saturday 22nd January 2022.
22:10 – The day went quite quickly, and it was really great to see Gianni, my son on video call. I wrote today what I consider to be a good article on Britain and the EU, with excerpts from my letters to Theresa May. Who I dictate it to is another matter though? We will see as there is no great rush as I see, in this race, I am alone.
Sunday 23 of January 2022.
21:45 – Today has been an interesting day, proving to me that (a) The world is round and (b) that journalists do not check the very basis of sources. The trouble with dissemination of facts is that it can be, fatal for those affected, let's hope for the best.
Monday 24 of January 2022.
23:34 – The aftermath of Sunday, a boring day and little money on my telephone account. Throughout the last nine years has been a struggle. But as a great philosopher, once said. "What does not kill you makes you stronger."
Tuesday 25th of January 2022.
18:46 – We don't know who we are until we are connected to someone else.
Wednesday 26th of January 2022.
20:04 – Today has not been so good a day. I'm a little bit struggling with no explanation as to why I am still in detention almost two years after my sentence, (for a crime I did not commit) ended. The obfuscation, stonewalling, and evasion, in my case, is truly incredible, and denial of my rights to access to justice.
Thursday, 27 January 2022.
17:10 – Review today a couple of applications that I did, and to my surprise, I find out that I am losing my touch on legal issues. I guess it comes with old age. This place I'm in feels like not like detention, but a refugee camp.
Friday 28 January 2022.
20:21 – Nothing to report another shite day!!!!
Saturday 29 of January 2022
21:11 – It's hard not to hate people, things, and institutions. When they break your spirit and take pleasure in watching you bleed. Hate is the only feeling that makes sense, but I know what hate does to you. It turns you into something you are not. It turns you into something you promised yourself never to become. That is what I need to say, to let all know how hard and trying not to cave under the weight of all the awful things I feel in my heart. Sometimes my life feels like a deadly balancing act. What I feel slamming up against what I should do. Impulsive reactions racing to solutions miles ahead of my brain. When I look at my day, week, year, most have been spent cleaning up the damage of the past. Do I have a life? Do I have a future? Everyday day feels like a coffin, you open it, you take a look inside it. What you find is just for remorse. What you find is distraction. Is that a life?
Sunday 30 of January 2022
An uneventful day, but with some very sad news.
Monday 31 of January 2022.
Another day of some. Tragic news. Sad!!!!
GDS
NB: Some images retrieved from Google, will remove at owner's request.